Liam and I decided to do a ride from here in Conifer, Co. to Moab, Ut. The objective is to stay off of I70 and avoid tarmac as much as possible. 
Bike of choice, Liam 2003 KTM 625.  Myself 2010 KTM 990
Saturday at 12:30 pm we are loaded and ready to roll. What a great day and we are excited about the weather window we are going to get on this trip. 
Day 1. The route plan from the house, drop down to Platte Canyon > Decker's> Cheeseman Lake >Tarryall Lake > Cut across to Hwy. 24 to Hartsel> back roads to Weston Pass.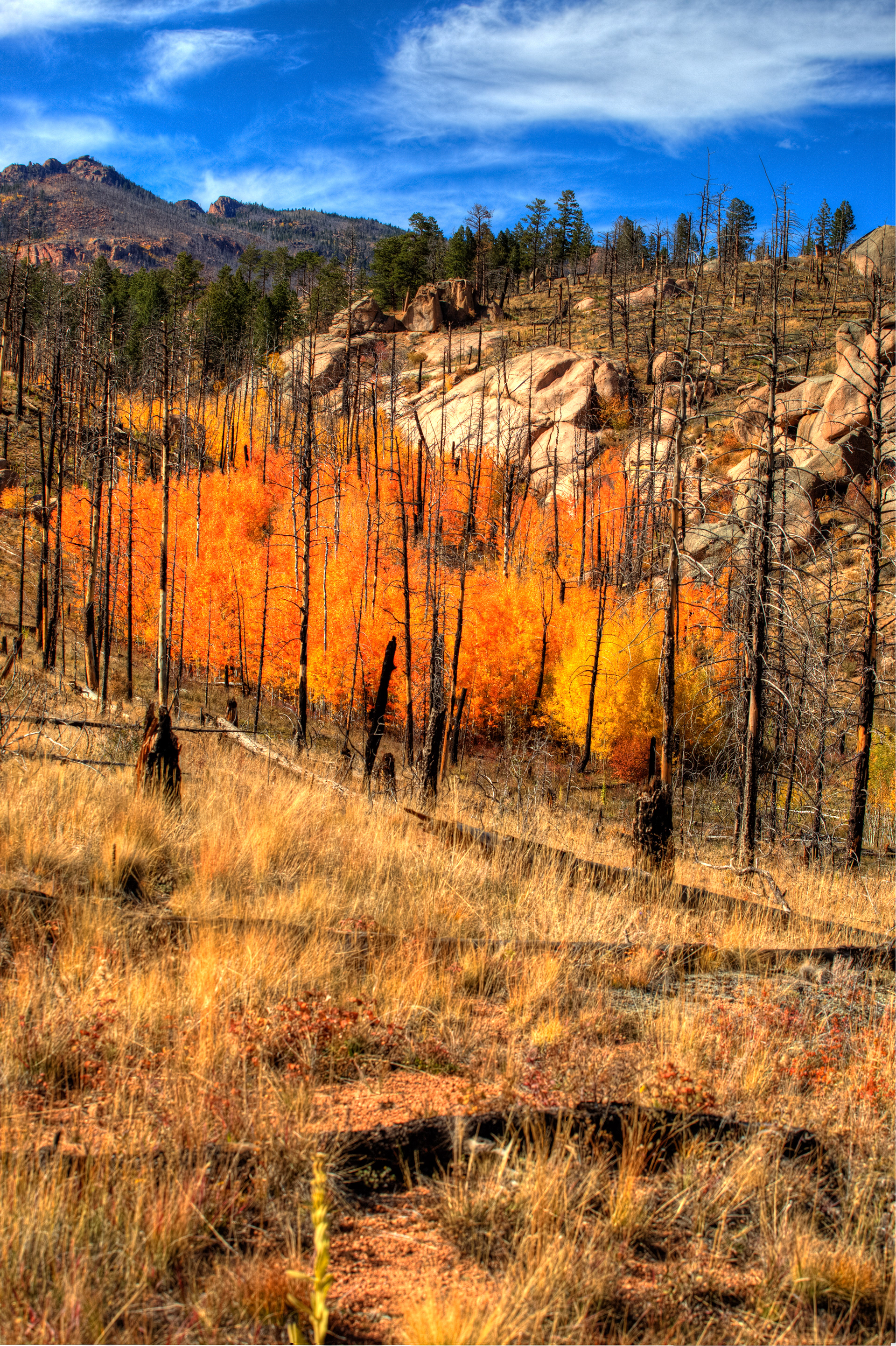 On the way down the backside of Cheeseman cut across Liam dropped from site, as I slowed down and waited he never showed. I turned around and rode back about a mile and half and found him on the side of the road.  As I roll up this is the site I see. That red thing in between the sprocket and tire is what is left of the tents rain fly. 
Apparently when ones bag comes off the top rack, and it's still hooked up to the bike, when it hits the tire that is rolling at around 30 mph it will stop spinning tires in a heart beat. Liam, "wow was not expecting to stop that fast"!  We got lucky as if that would have happen out on the road it could have been a disaster. With the fly cut out of the chain and the bags reloaded and strapped we're back on the dirt. Filling up with fuel and whisky in Hartsel, we make our way along the back roads and over to Weston Pass. 
As the sun is going down and the elevation going up we decided to find a camp spot before it gets dark and cold. Camp Weston end of day.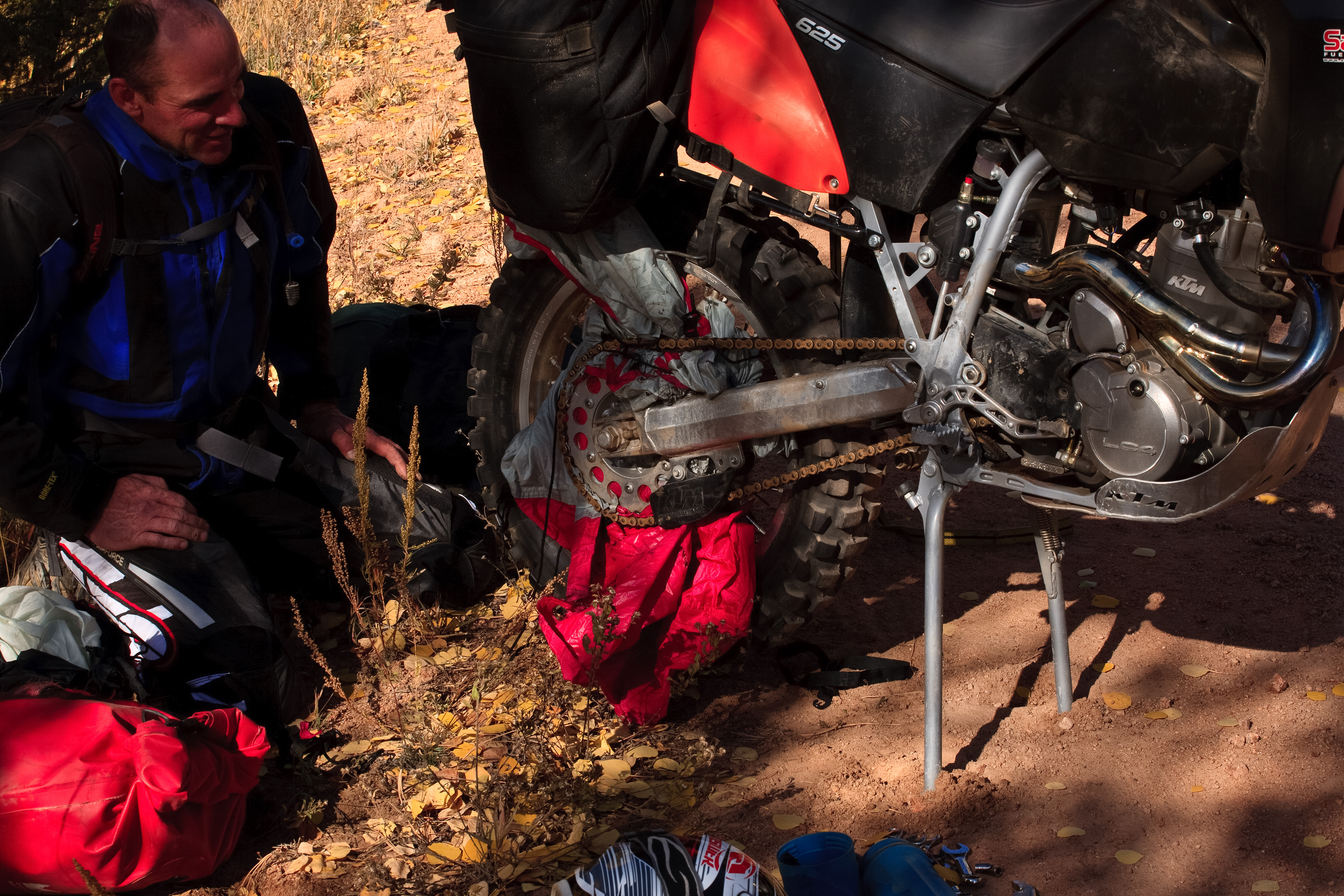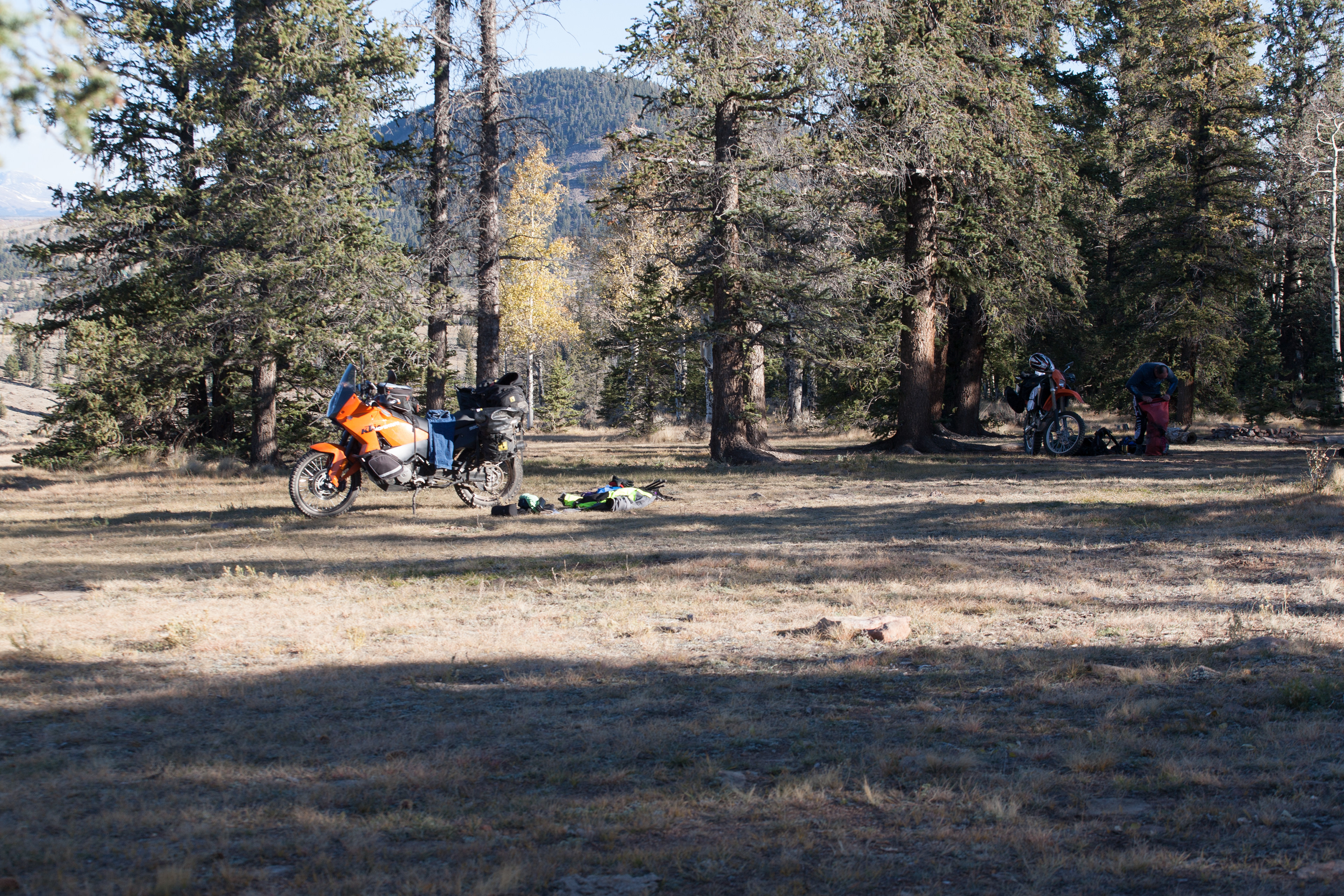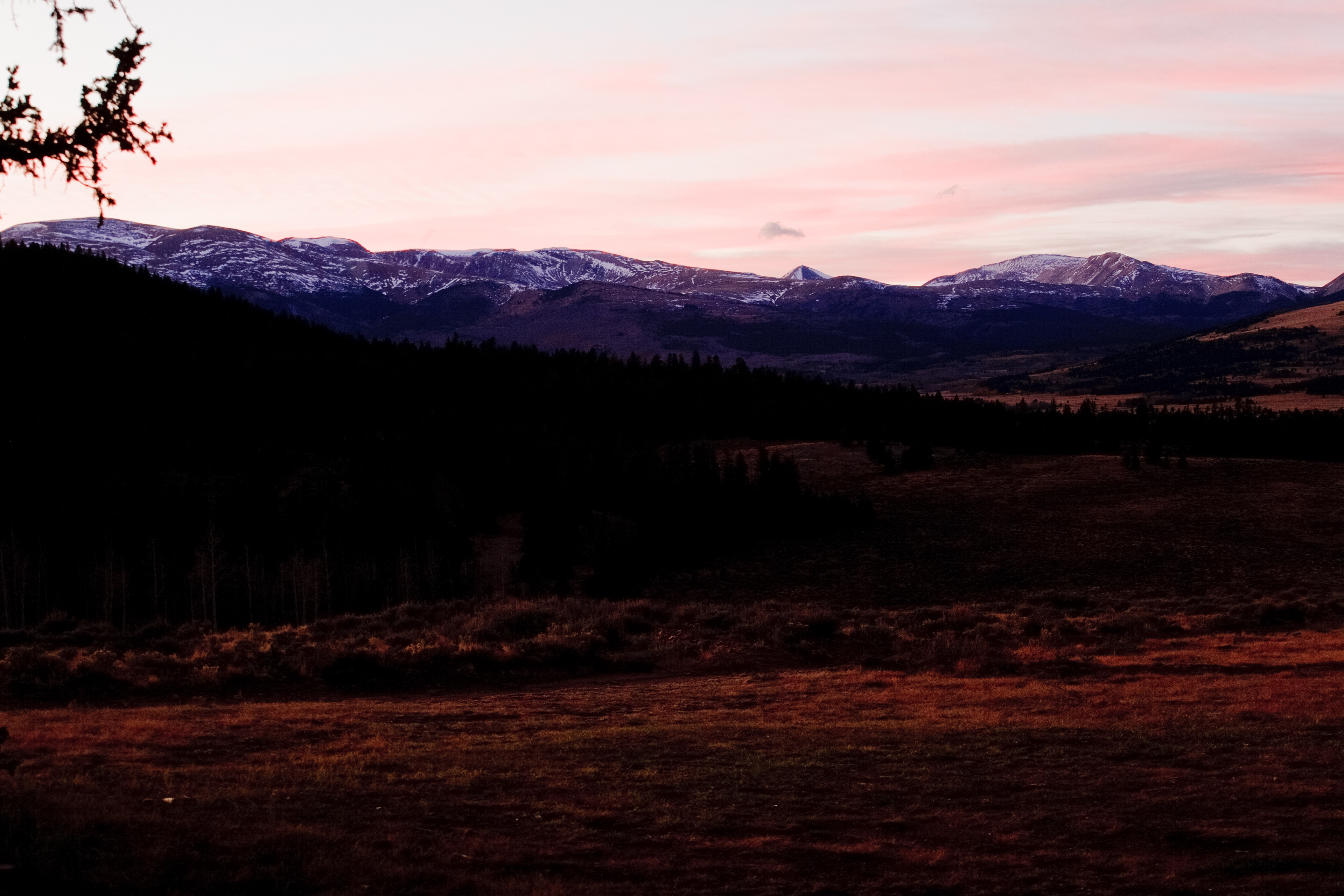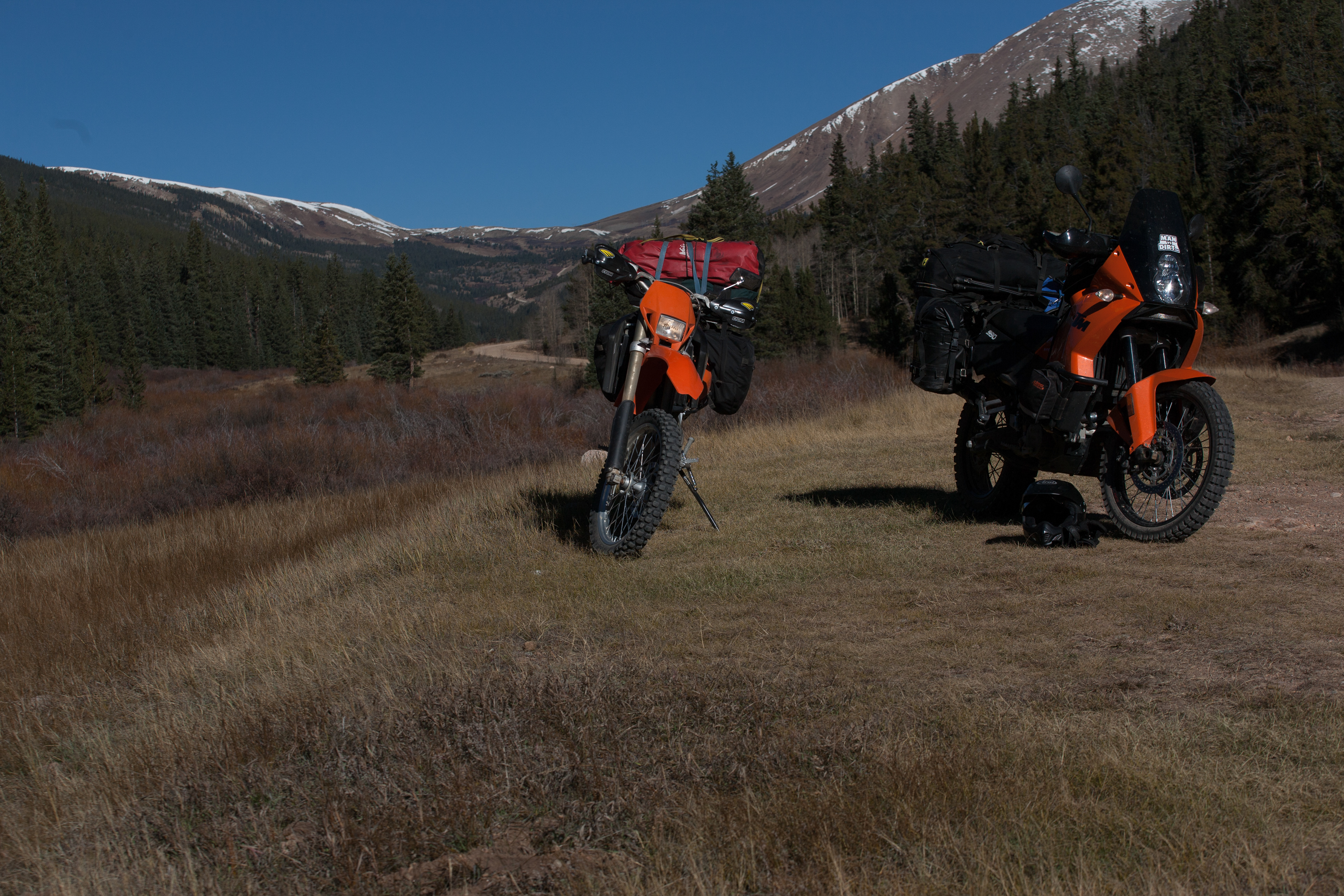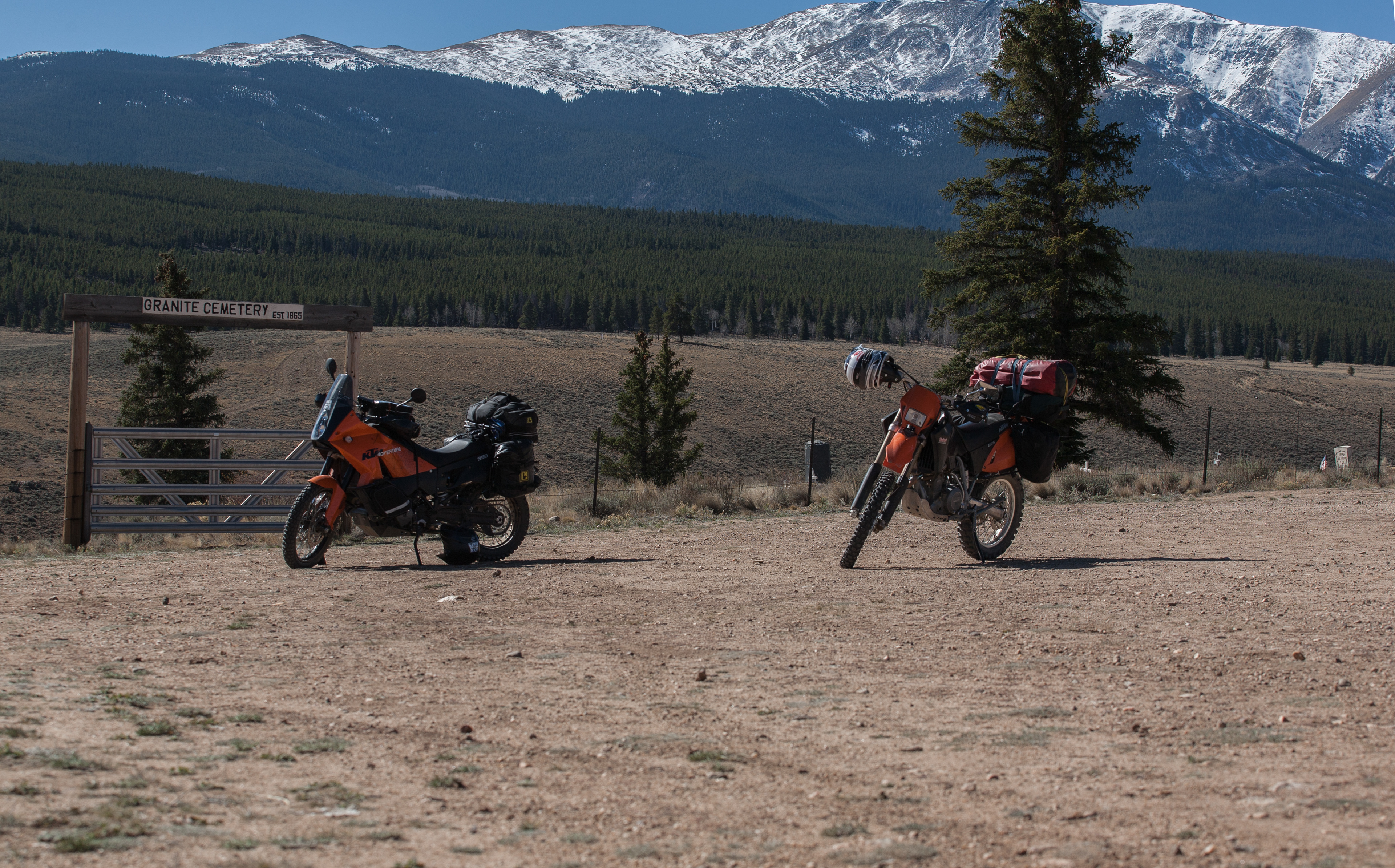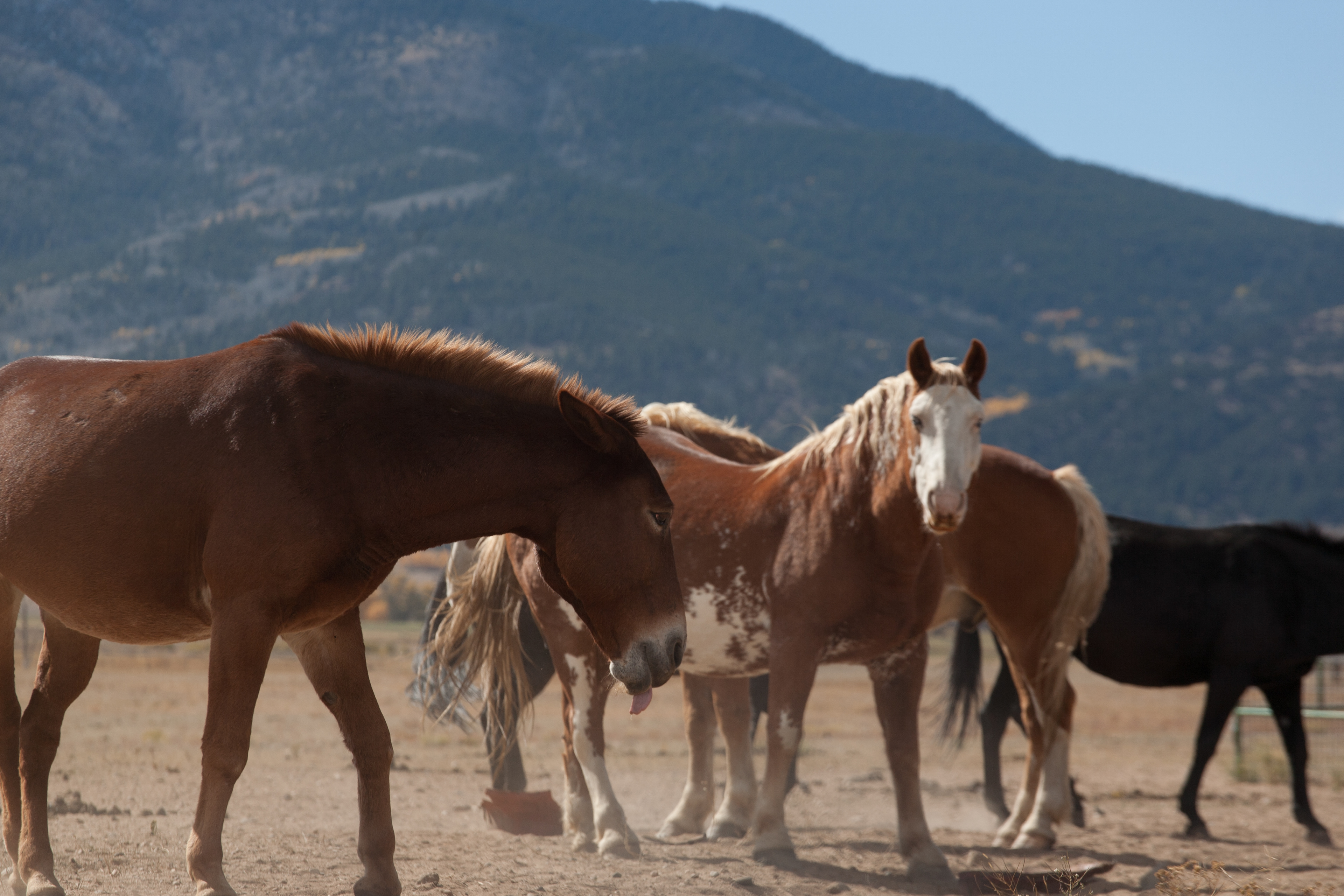 Weston pass>Buena Vista> Tin Cup Pass> Tin Cup> Cumberland Pass. Its going to be another stellar day of riding. As we warm up with instance coffee and oatmeal we watch the sun heat up the mountain in front of us. On the bikes an heading up Weston Pass, there is snow around from last weeks storm but nothing to deep as we make our assent. This pass is not very high and is quite drive able with a car. We stop here for some water, before heading in to the Leadville area. 
As we made it up an over we found our self's looking for a way over to Buena Vista. All the dirt roads kept coming back to hwy. 24. Here we are just outside Buena Vista killing time.
 As we come to the conclusion after looking over the map we just have to ride the tarmac for a ways into town.  
Once in to Buena Vista we got dinner for the night. Johnsons Ville Brats with Bush beans, yum yum. 
Then it was time to inquire about some dirt roads and passes. We wound up talking to the owner of a 4x4 rental shop. He was a wealth of info to us, as he knew every road in the area. We were told about a Chalet up on one of the points that you could go up there and stay for free.   As the day was still young we headed out of town to Tin Cup Pass.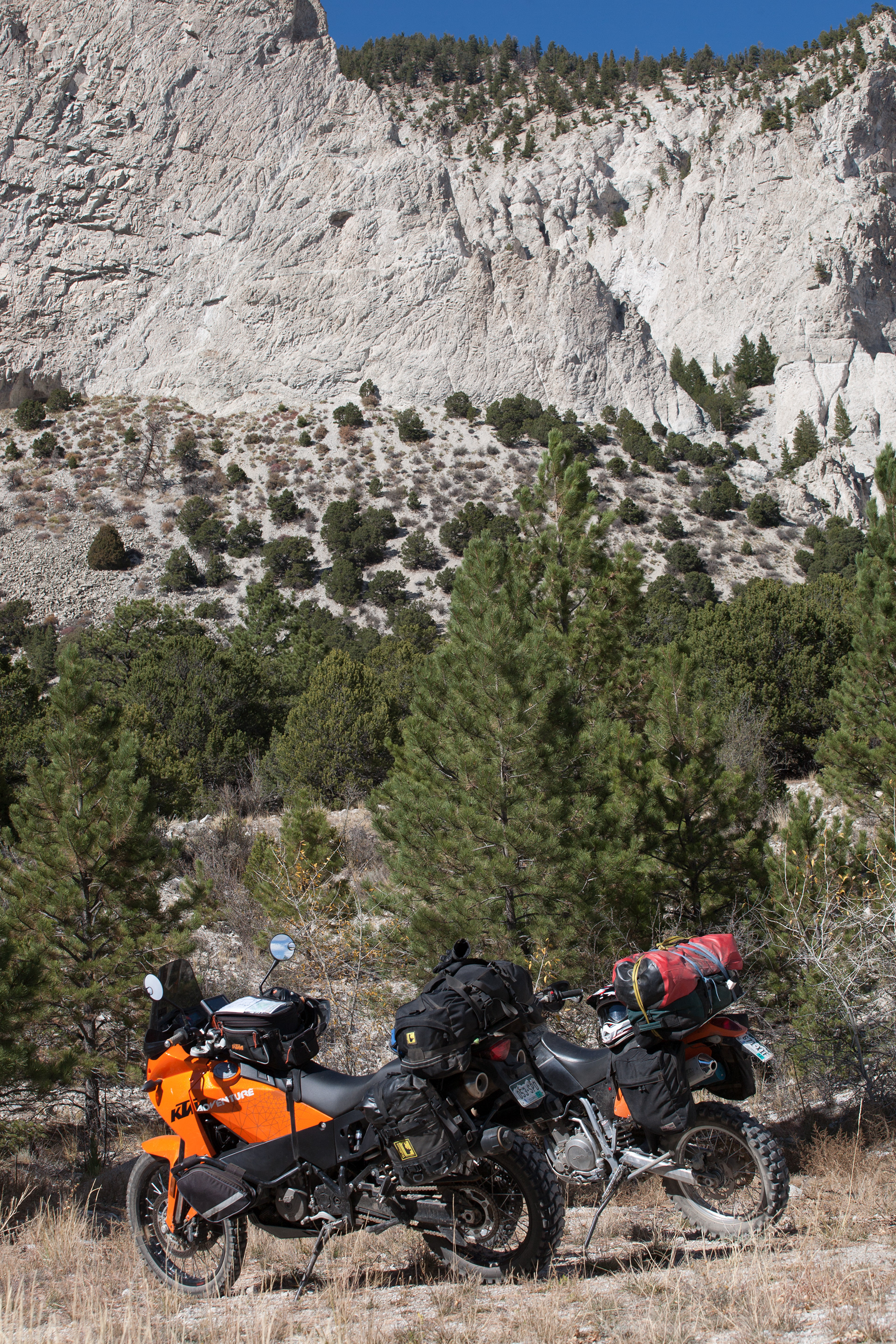 As the road made its way up the mountain pass through an area called Alpine, this is just before St. Elms and the road from Alpine goes right in to St.Elmos.

 So up to the top of the pass we roll.  It's been a couple of years and a 450X the last time we were up here.  I don't remembering it being so rough, could be the extra 170

pounds of bike.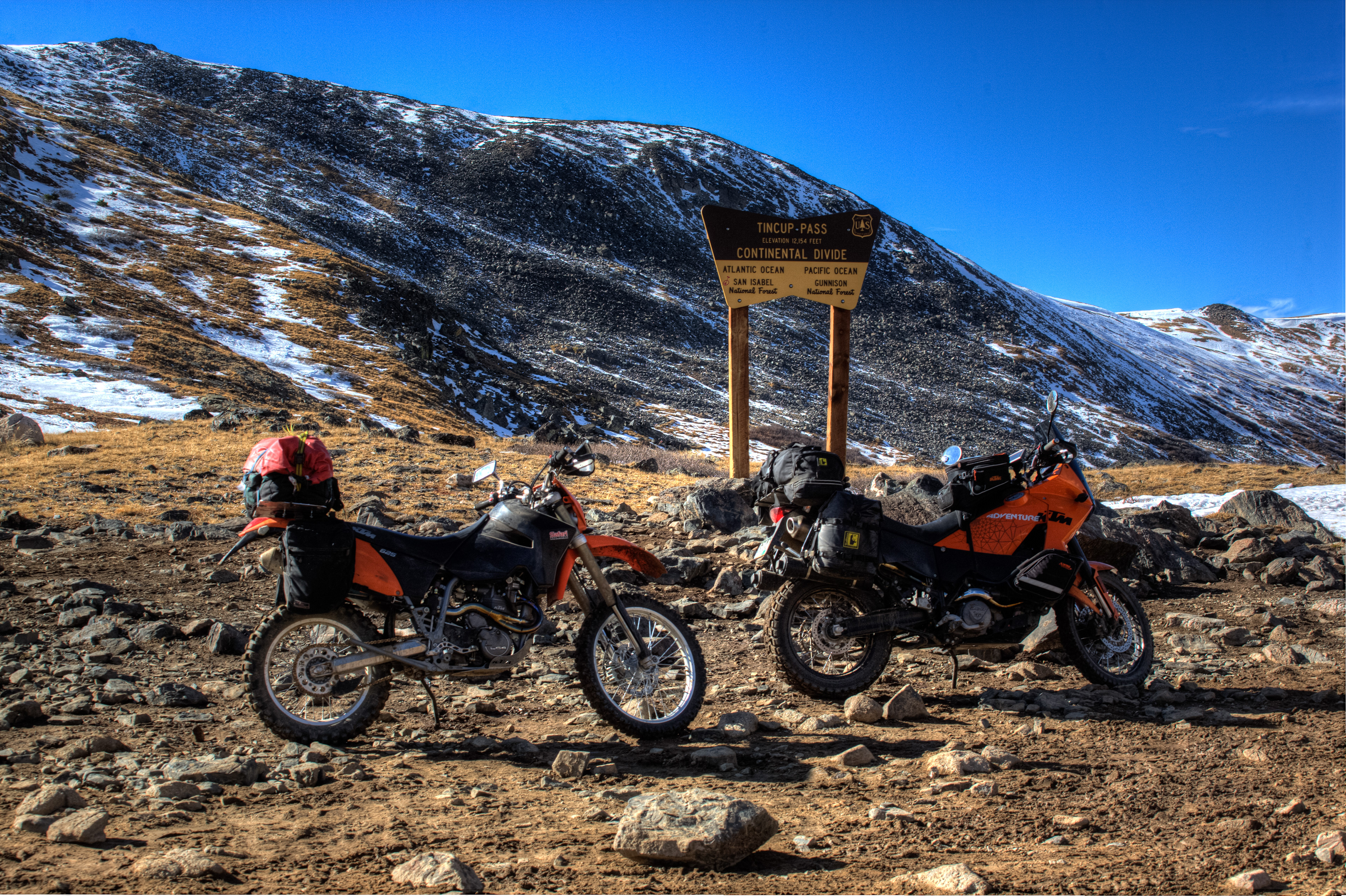 After this pic above, I did hear Liam say "Thank god were going down hill now".  There was foot peg deep snow on the way down, and if we had to come up it would have been a work out to get them up. 

Now above snow line we make our way to Mirror Lake above the mining town of Tin Cup.  This is a great area to explore and those of us luck enough to have a true trail bike" 250/450"  the single track trails in this area will leave you in awe! After leaving the lake we make our way down to the town of Tin Cup, again the weather is unbelievably warm for post October, and we our patting our self's on the back for our unbelievable weather luck

. ​​​​​​​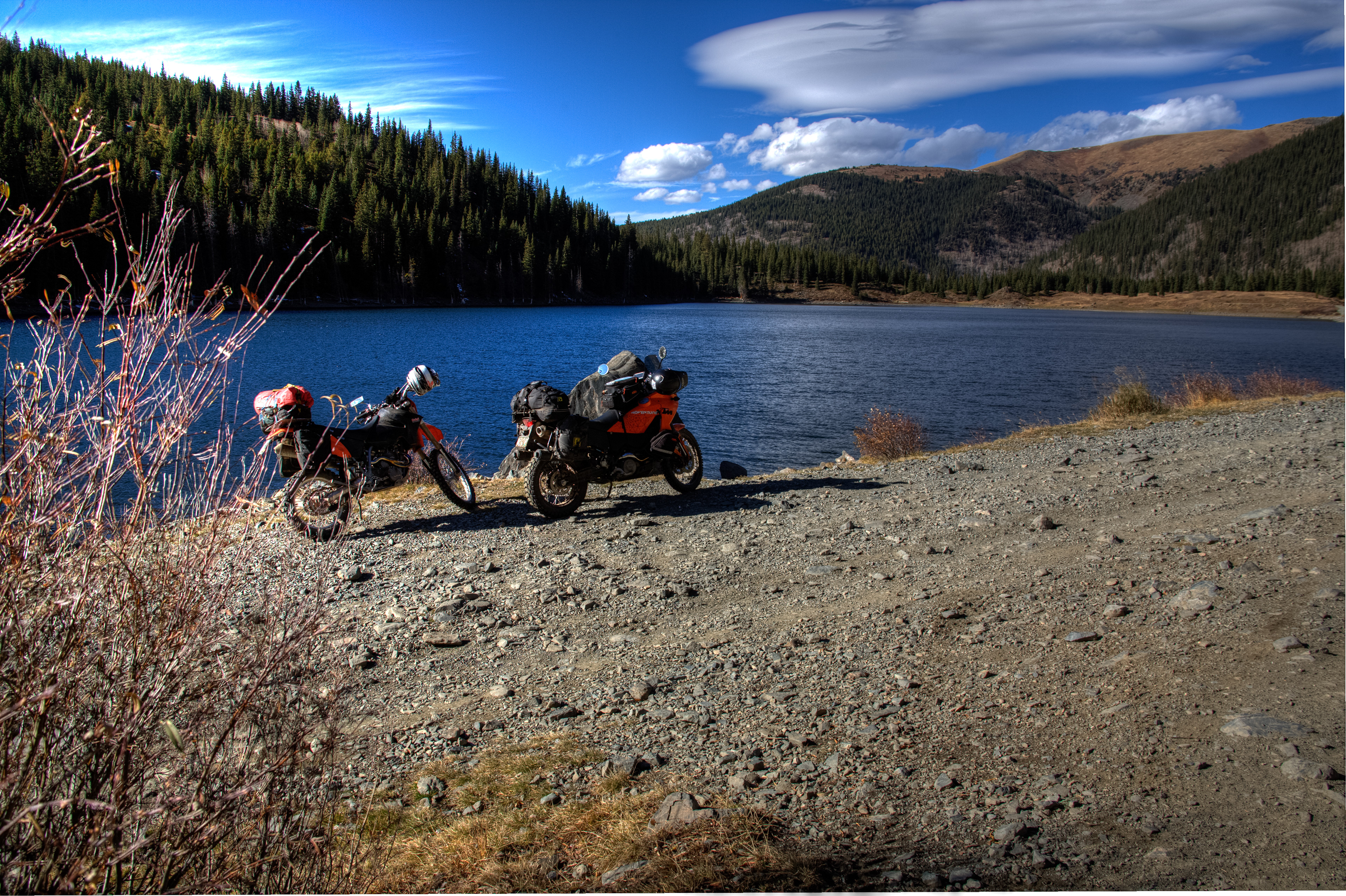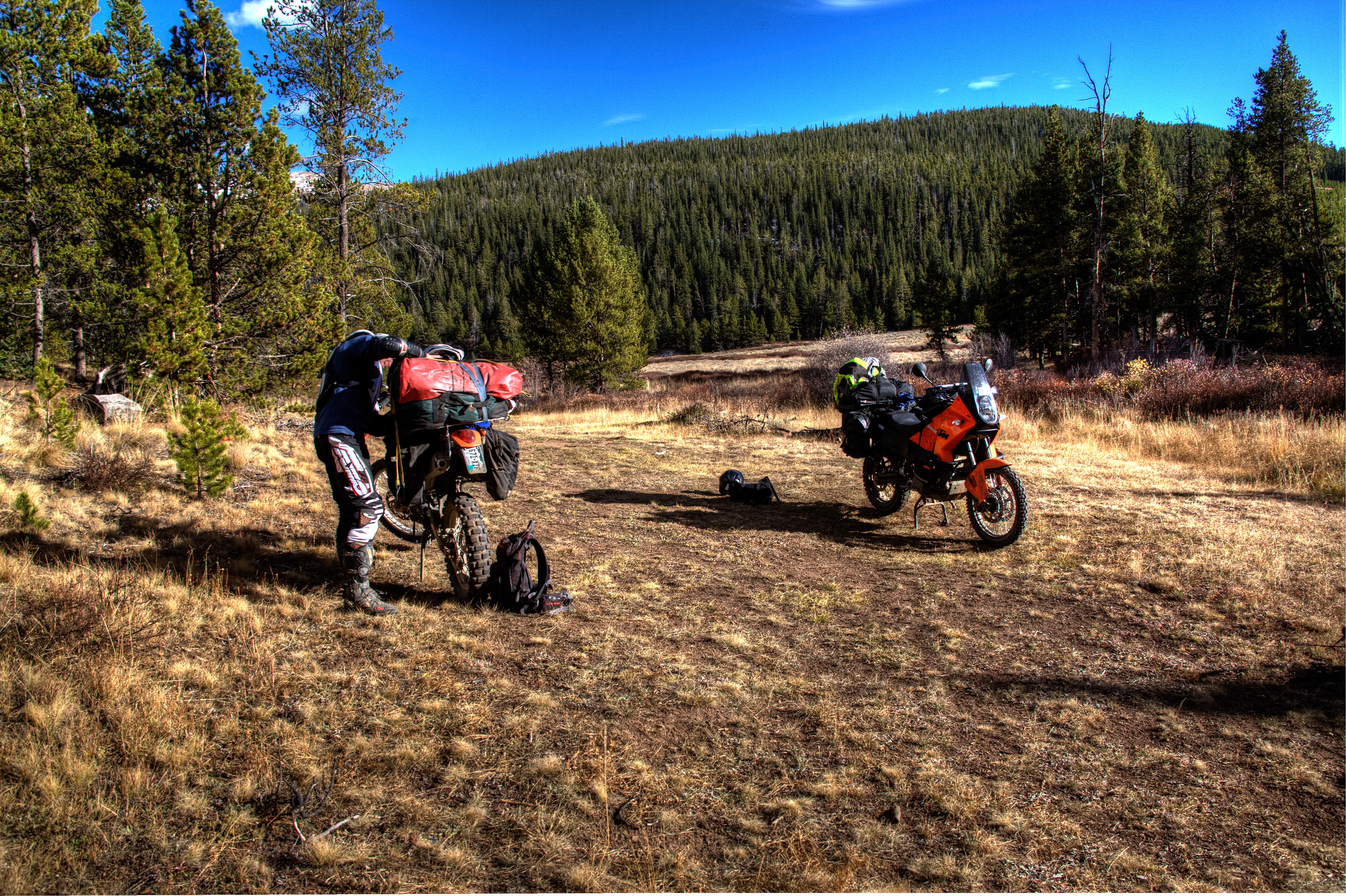 After coming off the pass and time is around 4:30 pm, I inform Liam if we go over Cumberland pass its going to be steep and deep and all the camp spots are going to be on the North side and cold.  "I know where a nice warm place on this side of the pass to camp.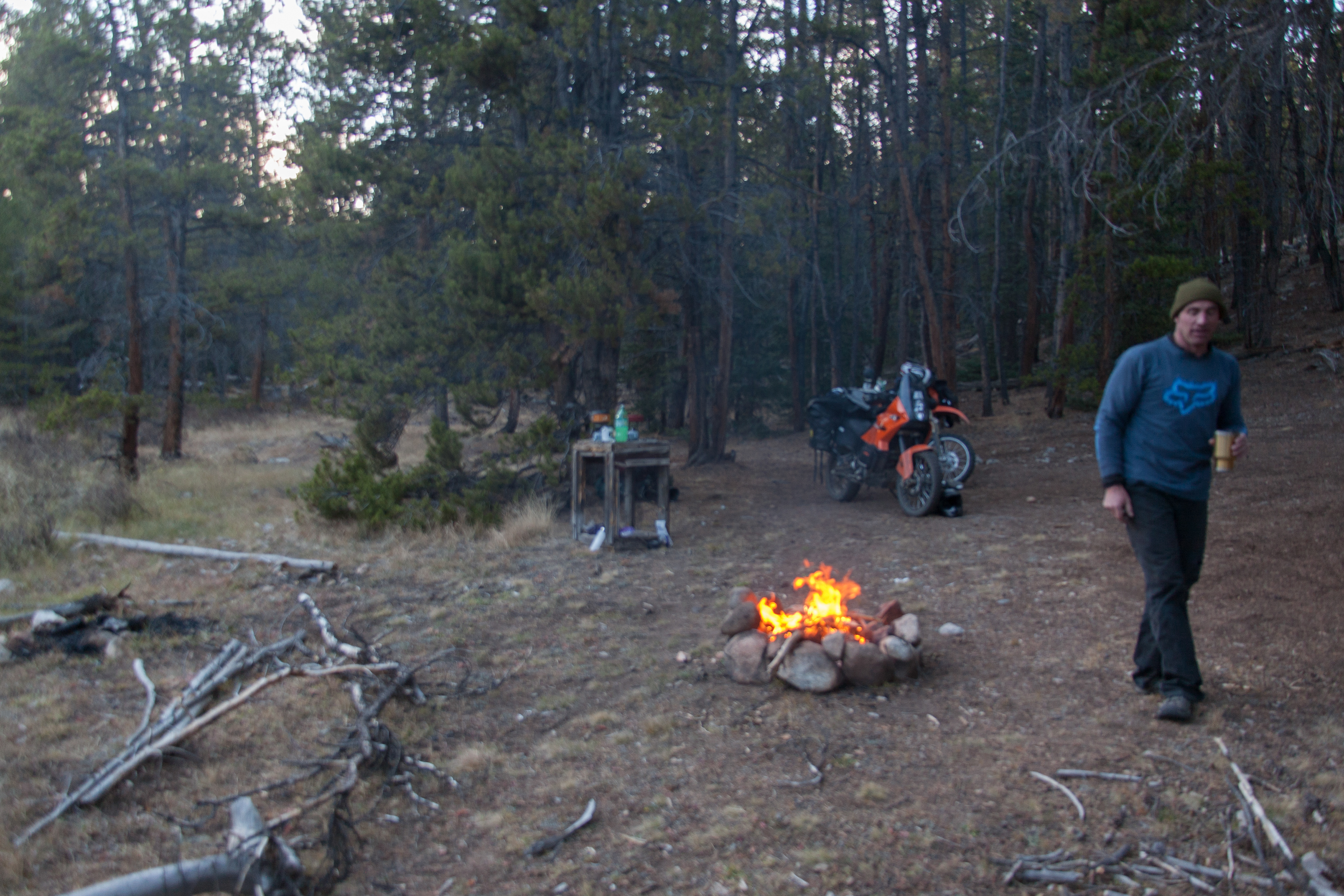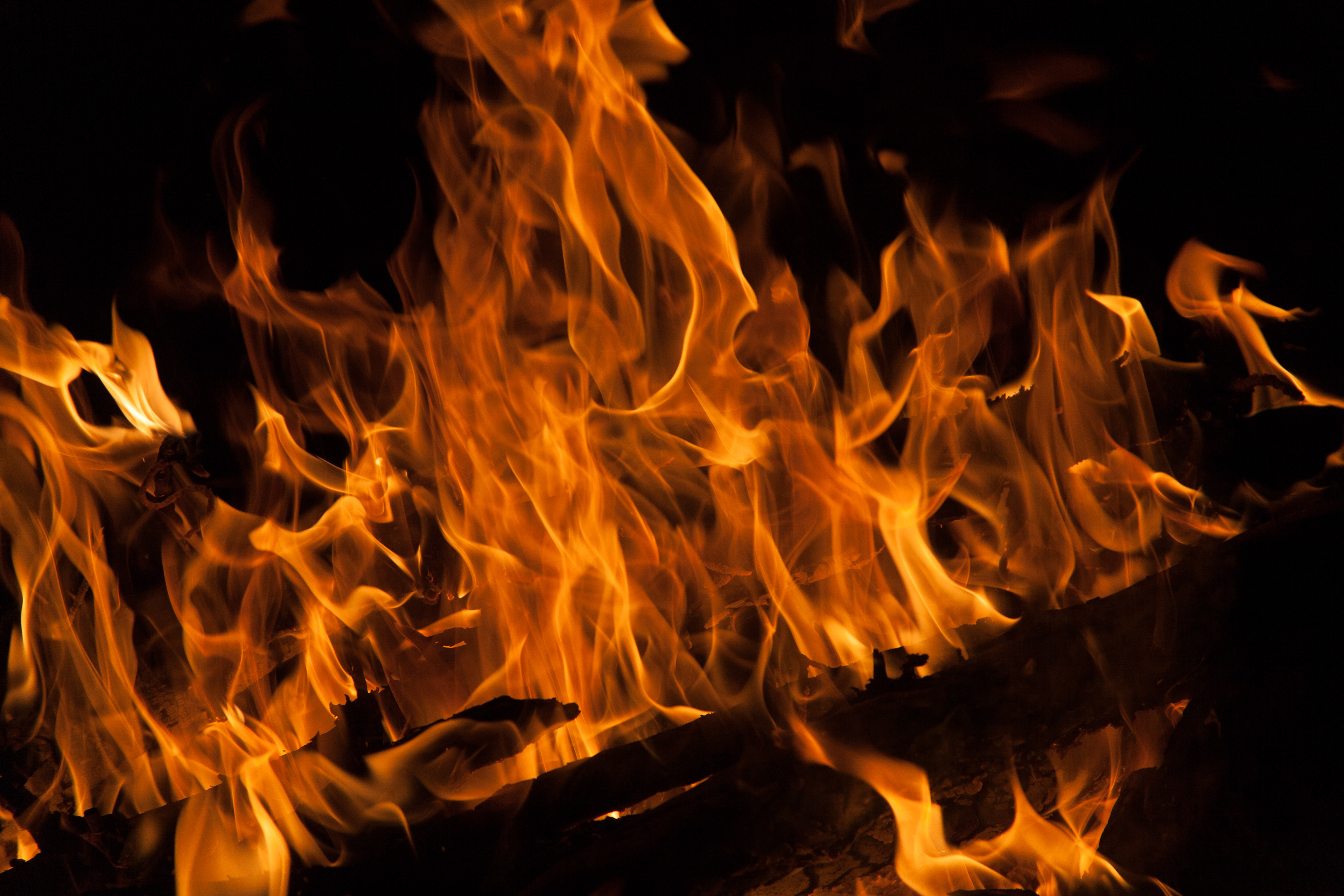 We can head up and over Cumberland in the morning."  So with that being said we camp on the sunny side of the pass near Tin Cup and with luck find a "Table" to cook on.  Whiskey, Fire, Warm weather, we are riding large! 
What could go wrong? 
Day 3:  Cumberland Pass> Pitkin>/Winging it???
Who knew, snow in October? In the high country at 10,100 feet?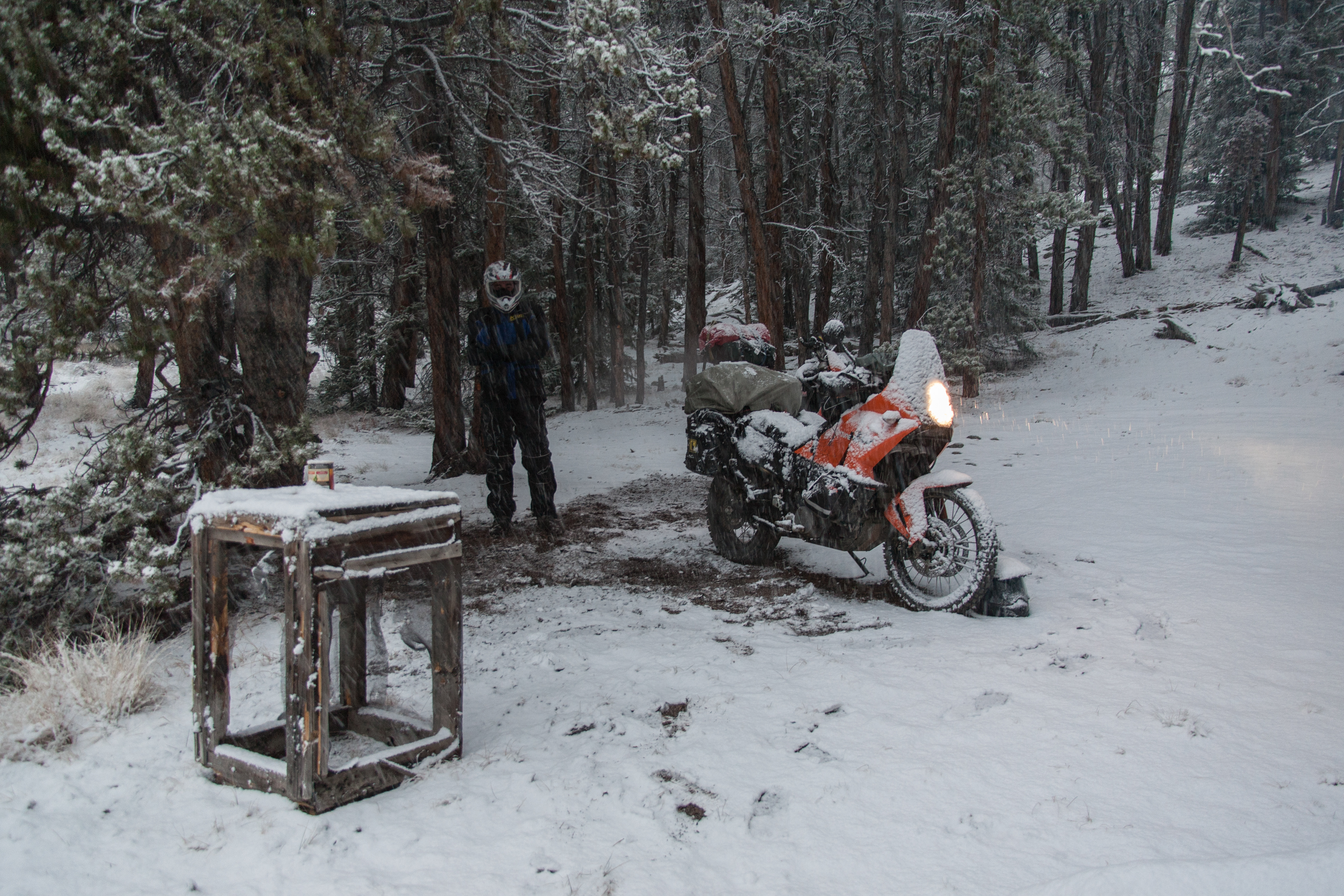 So around 3am I awake to some light drizzle.  Its not bad enough to seek out a rain fly as we have just been tossing down sleeping pad and bag.  I decide to just roll over and pull the sleeping pad on top of me to keep the bag from taking on water.  When I awake at around 7 am Liam is up and I with my eyes still shut I howler out "is it snowing yet"?  Much to my surprise the question was answered, "a bit, but it wont mount to much".  my eyes pop open, someone above us shakes the snow bag hard and the flakes started coming down. 
 I just have to say with wet gear laying around getting snow on and in everything you are trying to pack back up into another wet bag is no fun with wet cold fingers. 
By the time we got out of this area there was around 2 inches and it was coming down fast.  As it turned out, both of us were still thinking about going up and over Cumberland pass, but.......we turned and went back down to Taylor reservoir and took Co 742 into Gunnison. Arriving in Gunnison, breakfast was in order and a new set of maps along with a tank of gas.  We headed out to Hart Rock OHV area and cut across to Blue Mesa Res.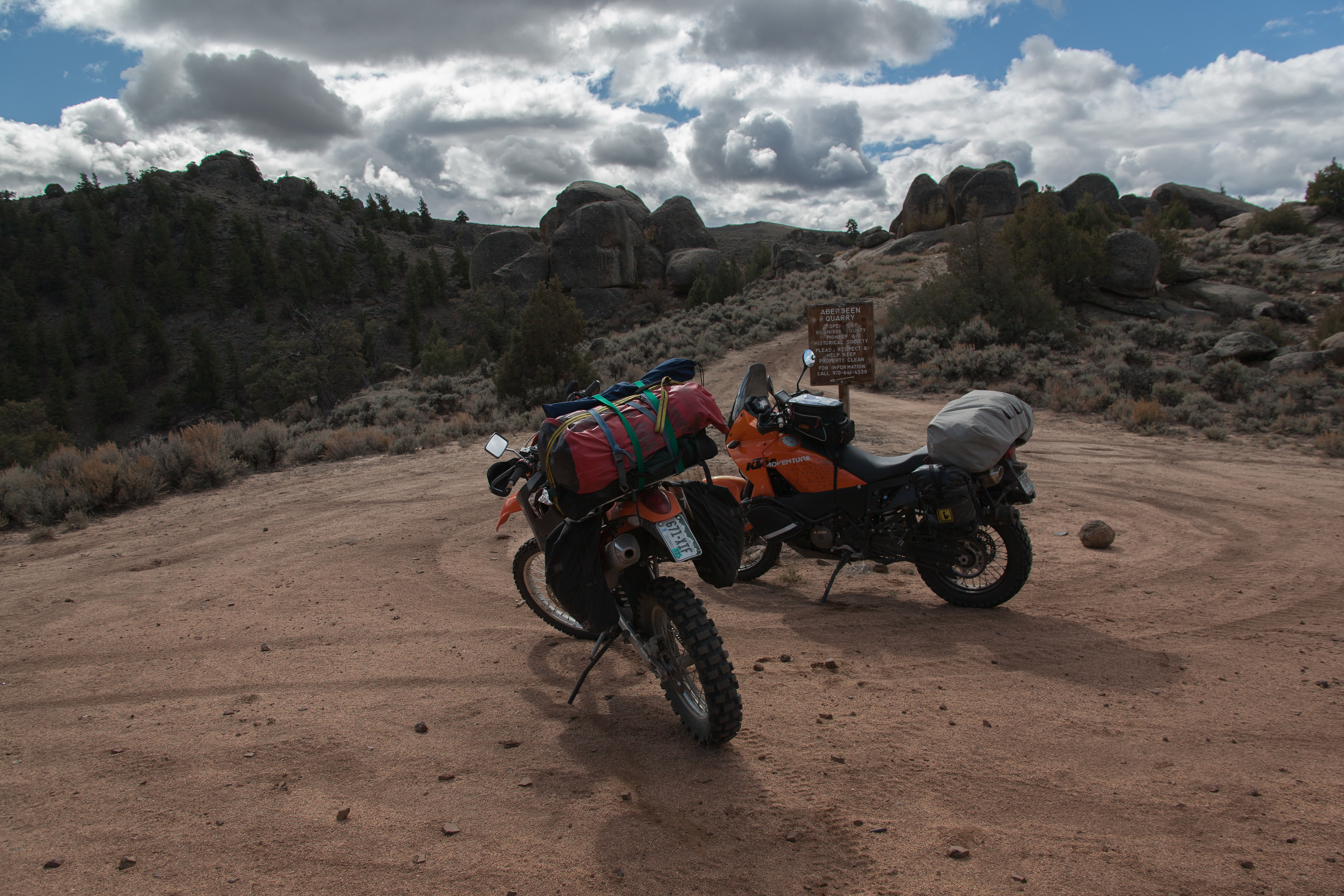 On our way across the valley we found this little slice of heaven.  If it would have been later in the day we would have camped here for the night.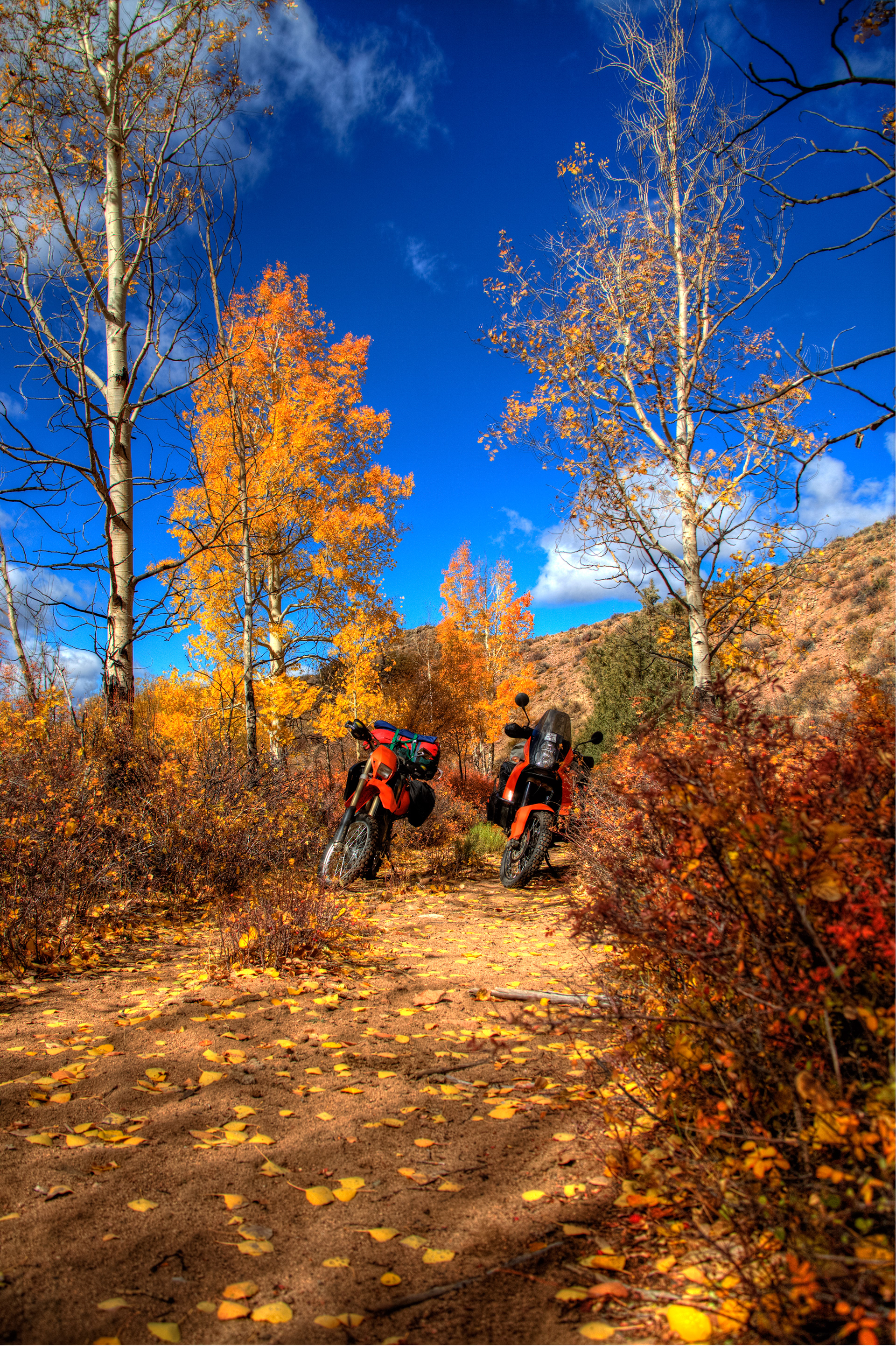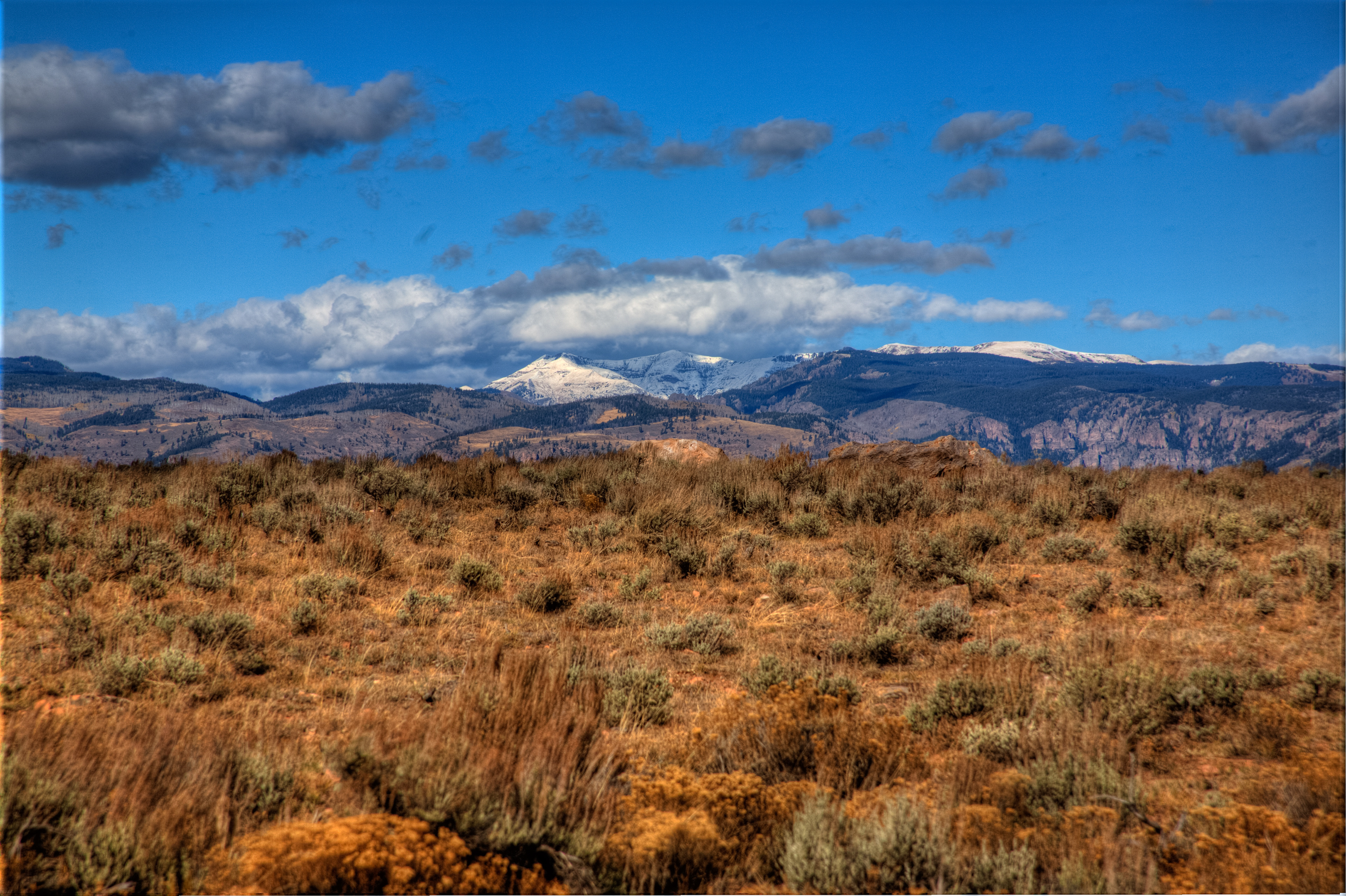 On our way across, we were reminded of where we started out at this morning and we both agreed that we probably did right by not trying to go over Cumberland Pass. 
​​​​​​​
We finely had to give up on the dirt and head for the tarmac as most of the pass we had chosen from here today were covered in snow so we rolled the last 30 miles into Montrose on the road.  Montrose seem like a cool town and lots to do, but we were only needing the liquor store, gas, water and groceries.  Our favorite dinner meal has become Johnson Ville Brats and bush beans.  Out of town we head on Hwy. 90 which heads West out of town back into the dirt and up onto the mesa.  Now were looking for a place to camp and dry out our gear.  Remember 9 hours ago we were 2 inches deep into the wet snow.  With a great spot found that looked over the entire Montrose valley and with the sun still up high to dry out our gear.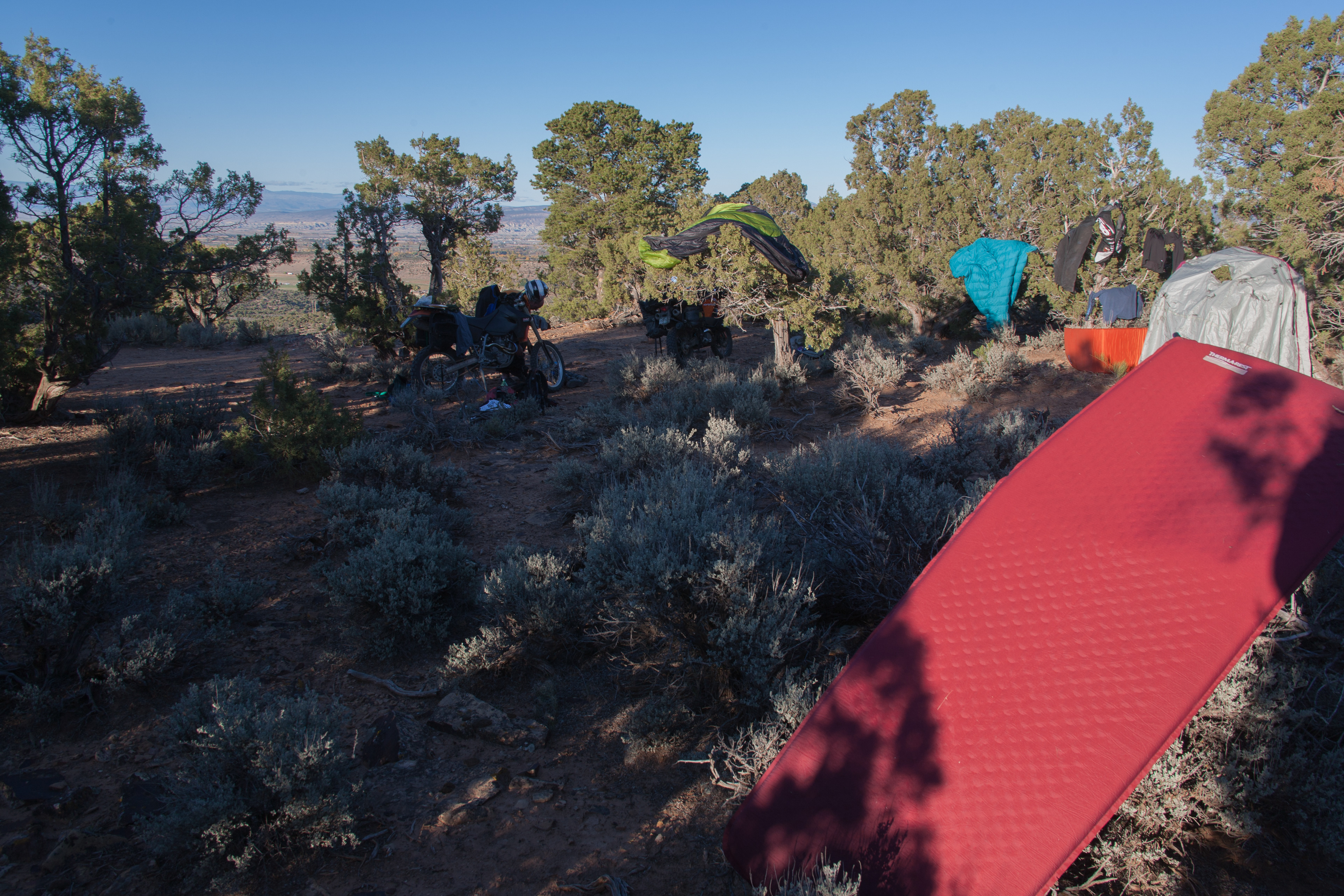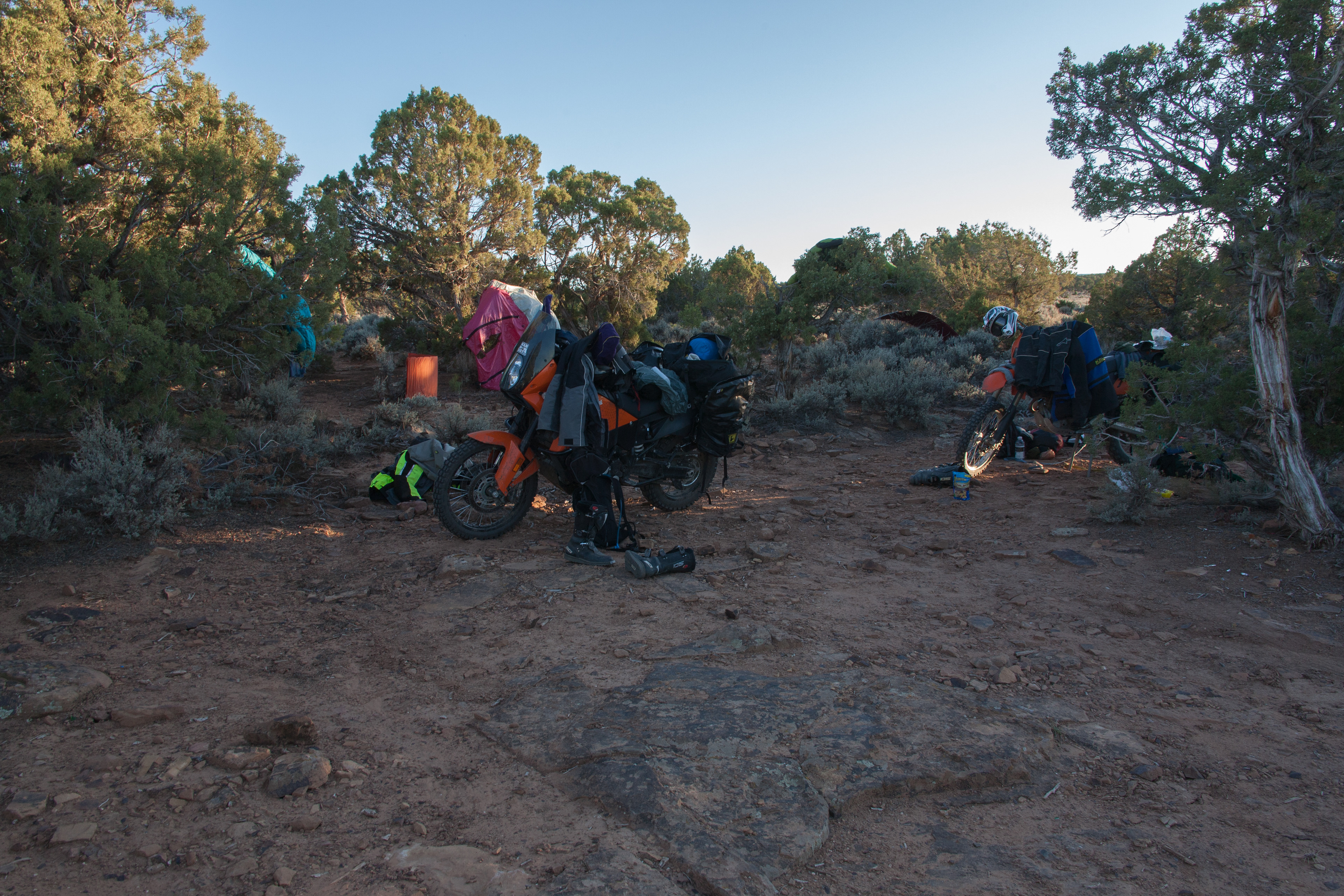 Can you here the Ladies now, "We just cleaned up this dessert and you two slobs just roll in here and throw your crap everywhere"! 
 With dinner, Whiskey and dried out gear we call it a day.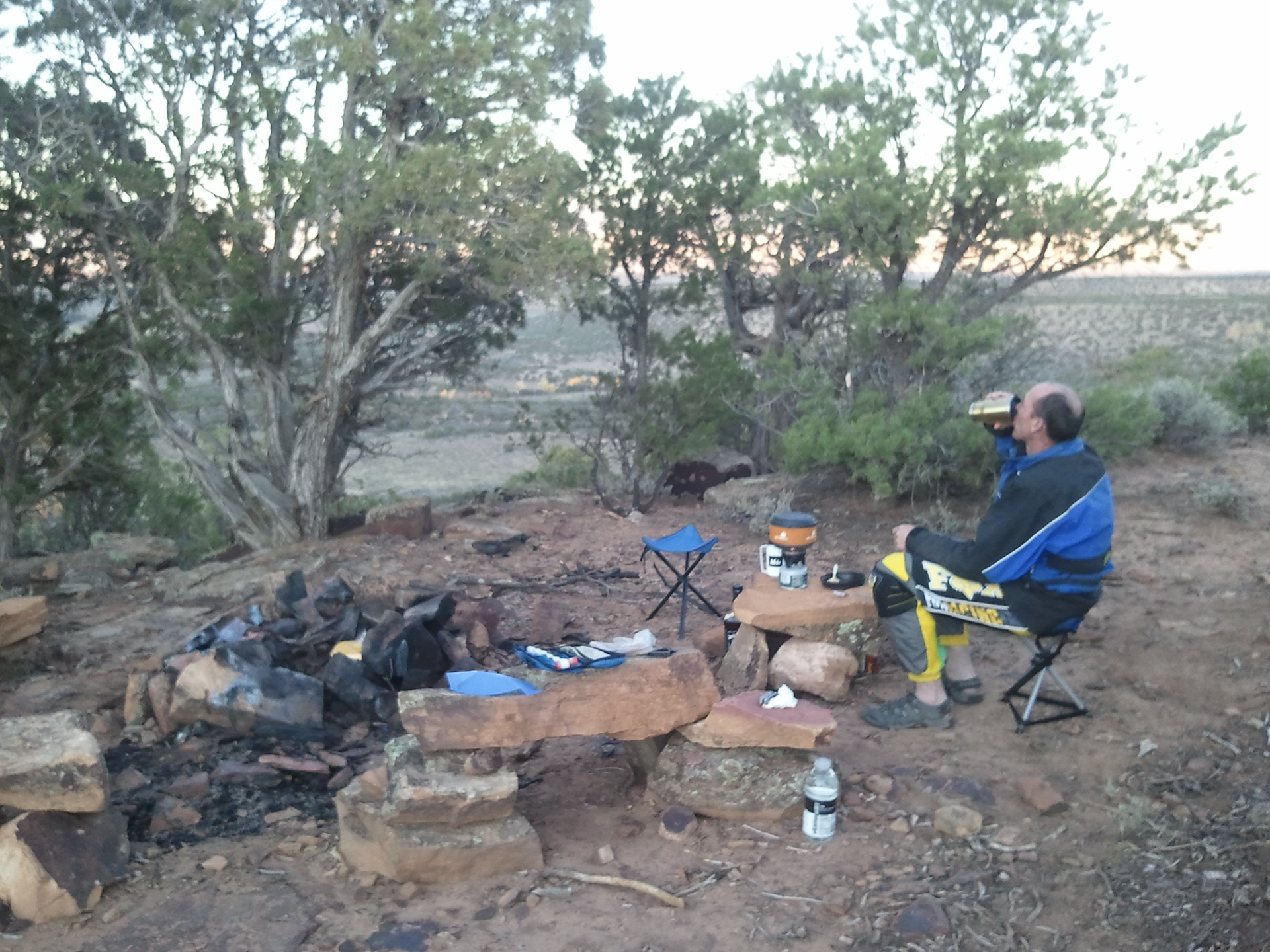 Hwy 90>Nucla>Uravan>Paradox>Moab. So with another bright and sunny day ahead of us and snow is now in the distance past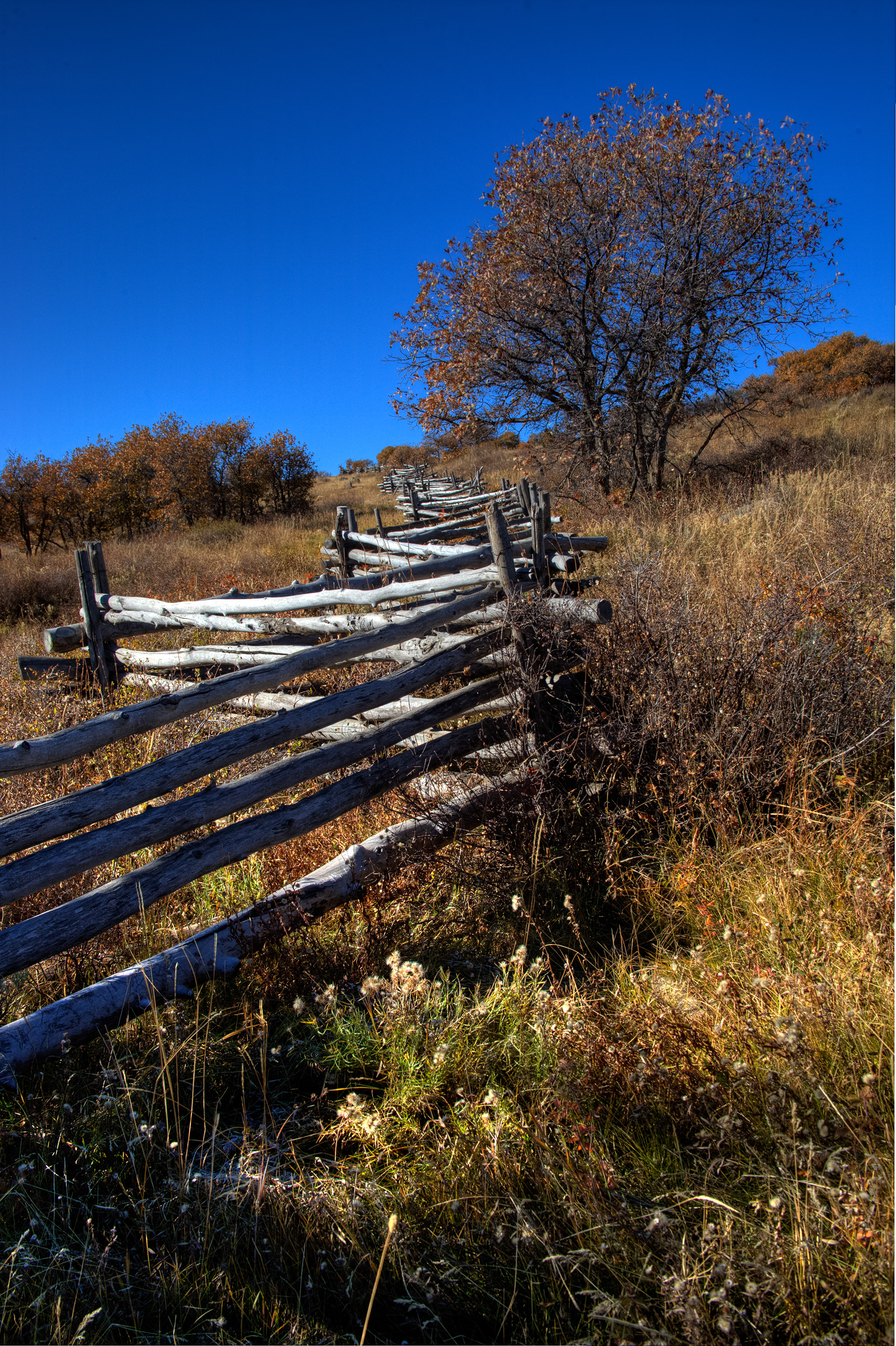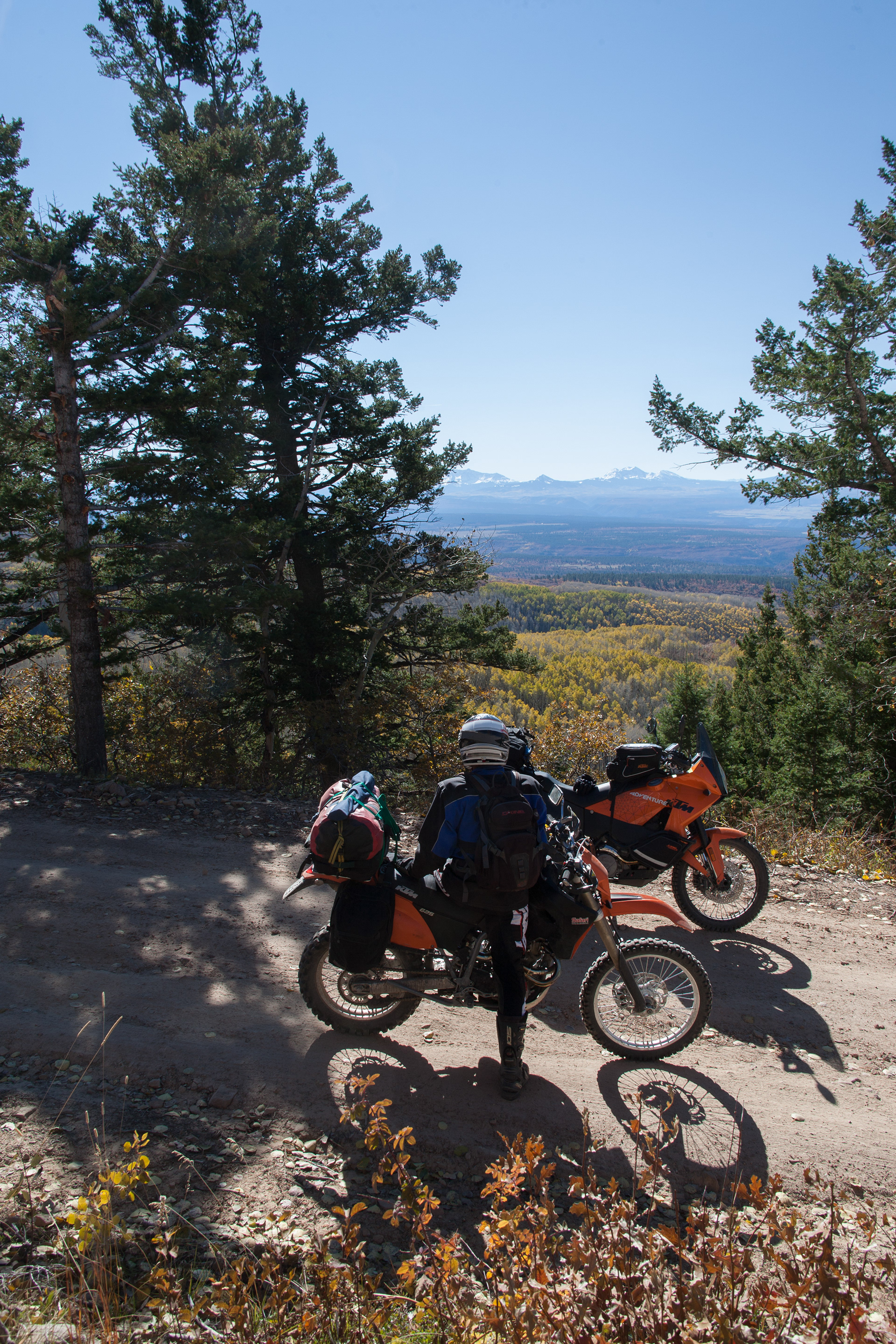 As we roll down Hwy 90 we start climbing up into the Uncompahgre National Forest.  I must say this is a beautiful area, and have always seen fall colors shot from over here but until you see it in person you just have no ideal of how beautiful it is!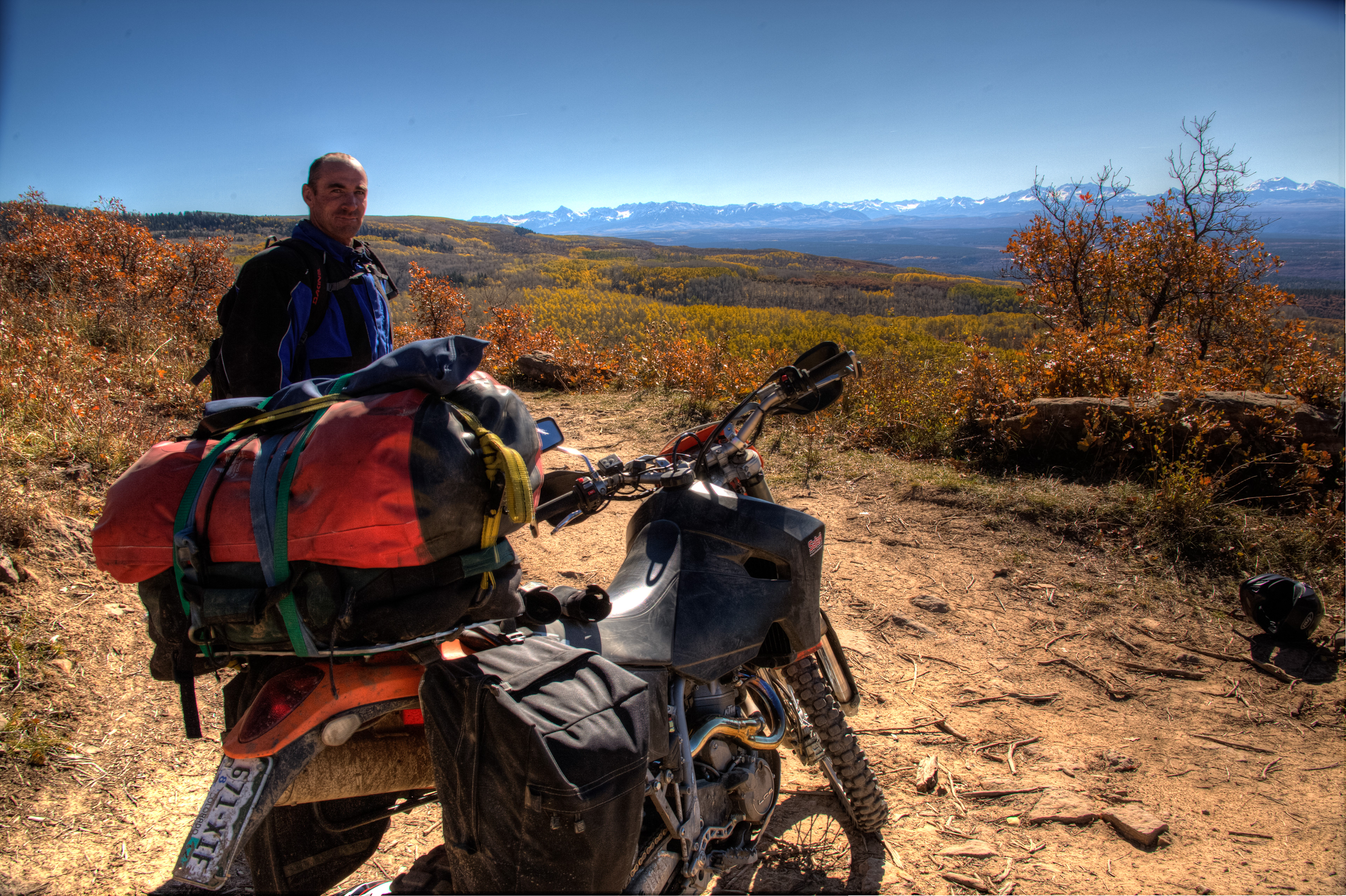 Here was our first good look at the valley below us.  This pic sucks as it was mid day and it was SUNNY!
Well on the way down the road Lola (the 990) was thinking she is such a Bad Ass Adventure bike she need to get a piercing while out on the trail.  So much to my surprise and disapprovement this is what she had to show me! 
Needless to say she did not sound right with that in her lug.  I pulled it out and we were back on the trail.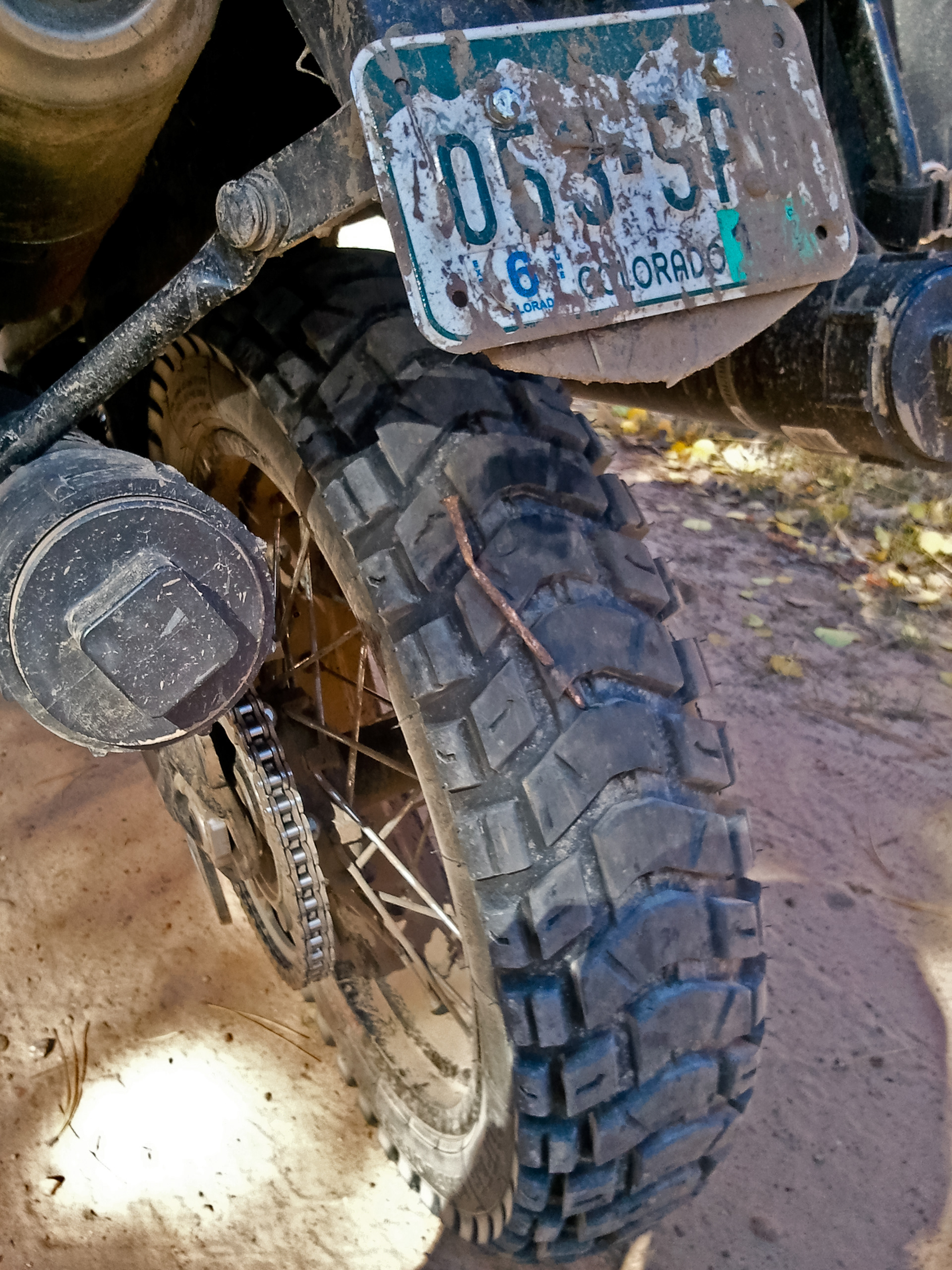 Once down and out of the forest, we popped out into the small town of Nucla.  "

Note to self's"

,

GET GAS IN NUCLA!

  As there is nothing until Moab if your running in the dirt".  We did'nt know this and didn't fuel up here, more on that later.
So out of Nucla we continued down towards the Hwy. 141
 We made the turn here and headed North West up 141 looking for a dirt road that would take us up onto the mesa between Hwy. 90 and 141.  Finding our cut off trail we started up the dirt road.  What luck BLM had run a cat in here not long ago and tore the crap out of everything.  It was a chore handling 500 lbs. in the loose rocky road.  Once upon top I spotted an old mine we had seen on the map, after getting scold by Liam, telling me to stay the hell off the old pads as all the mines in this area are Uranium.  With that said and getting about  30 doses of unprotected X-Rays, we headed out towards Uravan, for fuel.  On the way out we pass by a few Nuke bunkers that we ungodly big and very unnerving.  I had very bad dreams that night of radation cancer, while riding my bike, I woke up with a smile!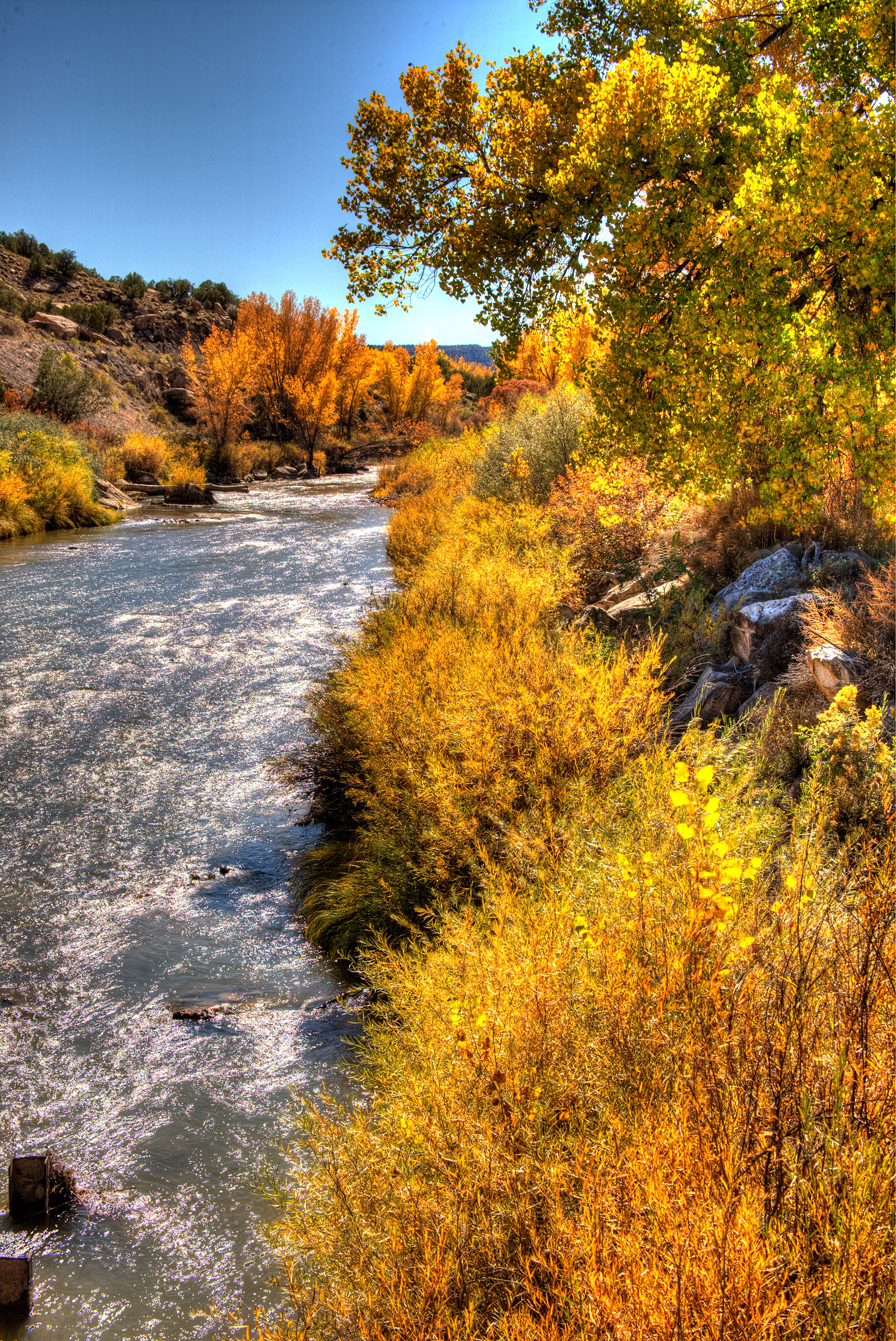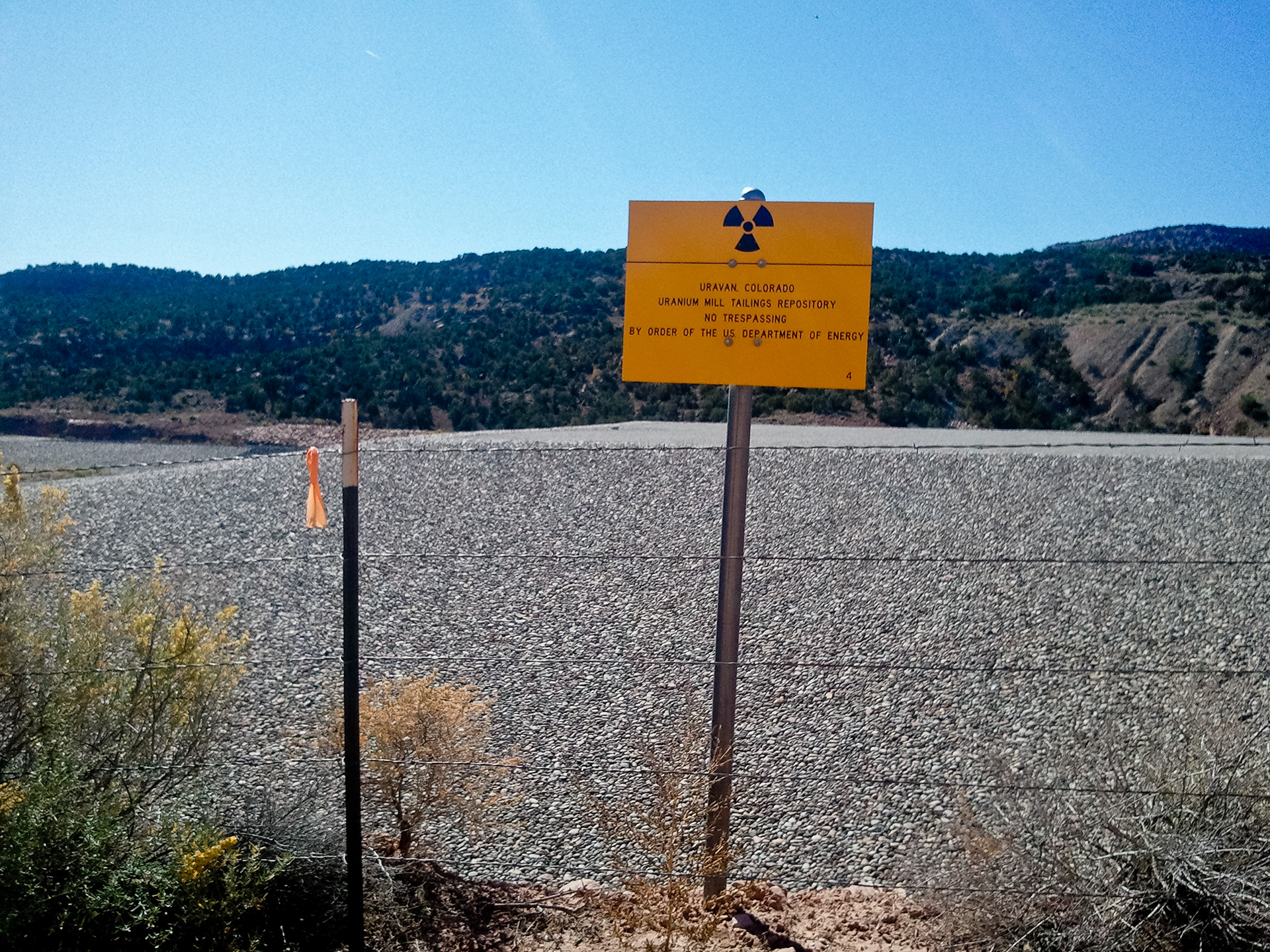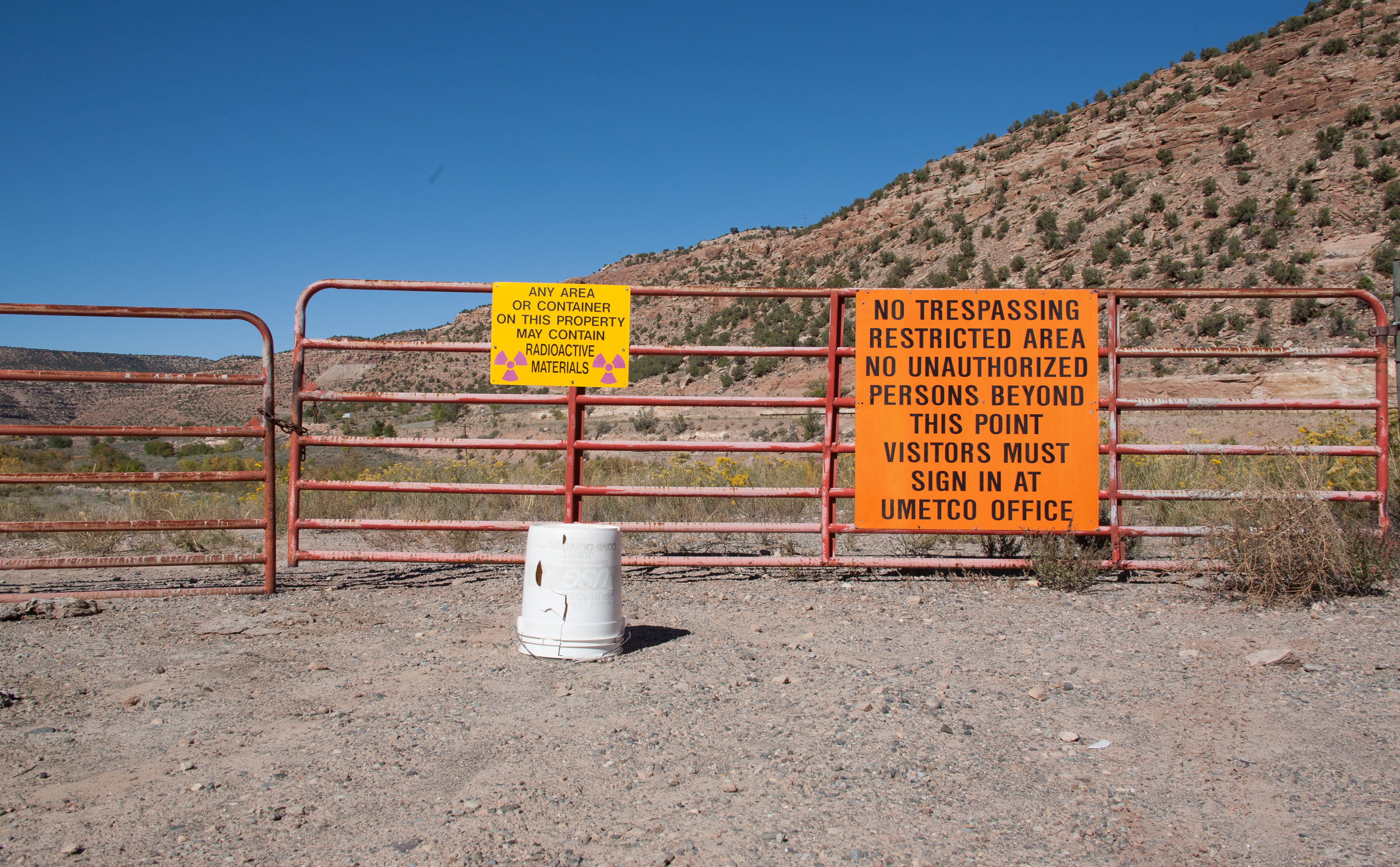 The moment we get to Uravan we finaly figured out that the BIG dot on the maps does not always mean a "big" town with fuel, it was just a spot on the map and no fuel but pleaty of 

radioactive material. On to Parodox, we turn left onto 141 and travel about half mile then turned left on Y11 Road and dropped backed down along the San Miguel.  This is a very cool canyon as it is part of the hanging flumes.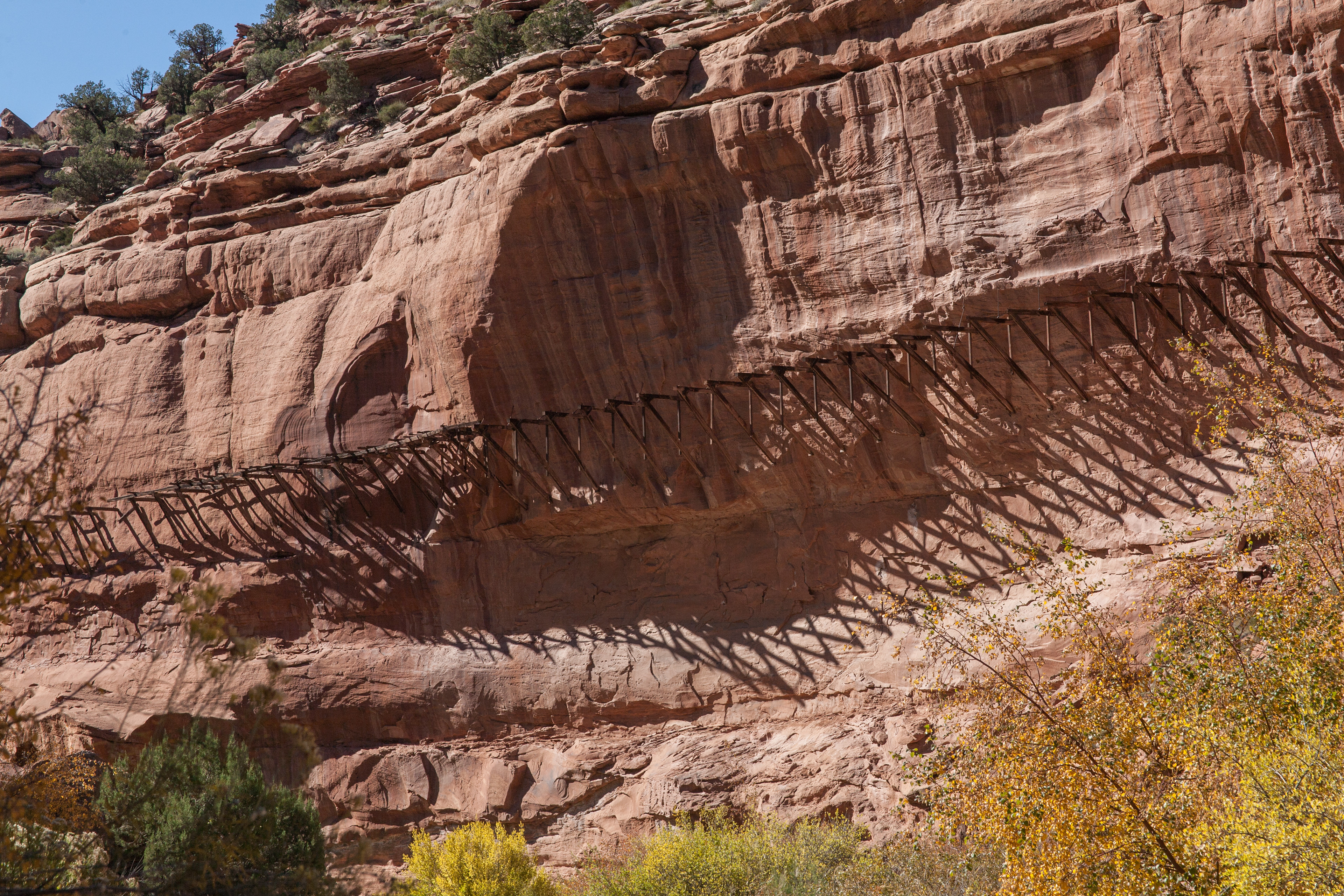 as we roll through this area, I had a hard time not running off the road from all the gawking.  We came to the confluence of the San Miguel and the Dolores and continued down towards Hwy 90.  From Hwy 90 at this point is is pretty much black top until you get to Paradox.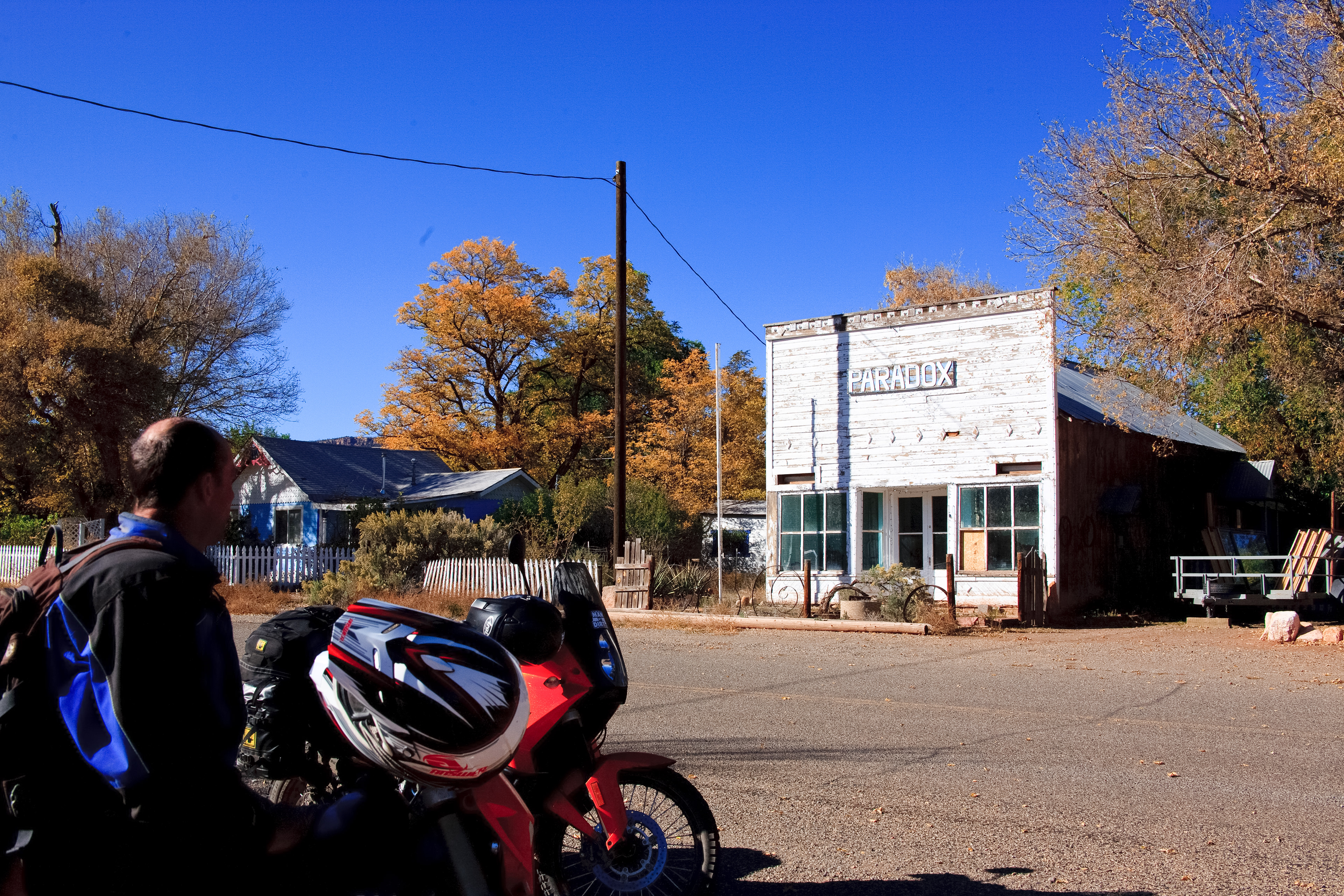 There is no fuel in Paradox!
​​​​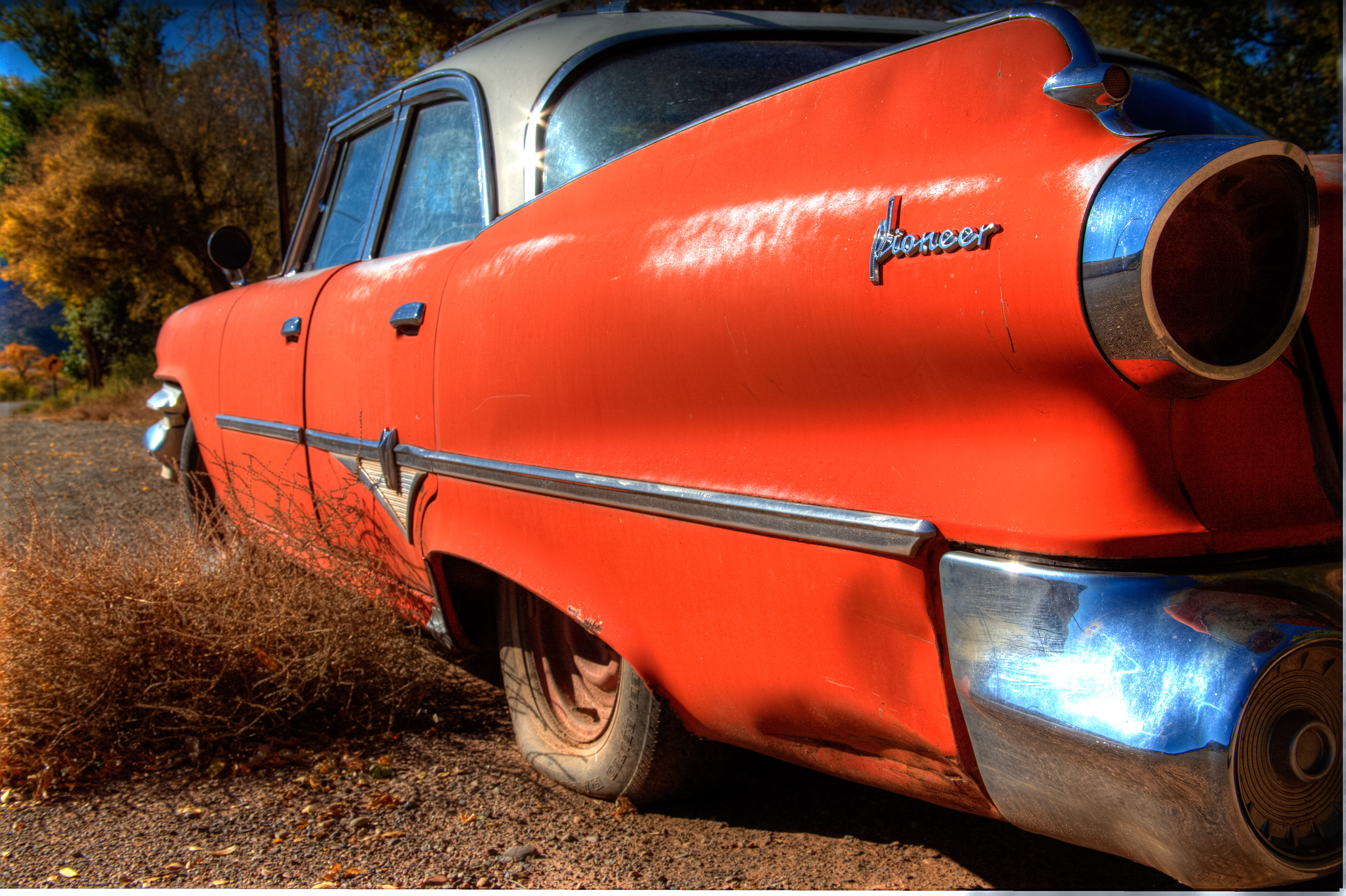 Paradox is another bigger spot on the map book and there is only old cars and tumble weed lining the streets here!
I trully belive this was the last person that did'nt fill up in Nucla!  (This is the more on that later part), we were out of fuel and no way to go back, and slabing it onwards would only mean the c
ertain off road adventure over the white line of the black top on the sholder of the

road

!
As we wondered around looking for some sort of fuel we spotted a rancher out near the road. After chatting with the rancher "Wayne" for about an hour we got all kinds of info and a new way into Moab via the U5 road that takes you up to Buckeye Reservoir.  Wayne was kind enough to "give" us some gas.  He asked "will those bikes burn 85 octaine?  I said "they will today!"  I told him we had money to pay for it, we were just to damn stupid to spend it in Nucla!